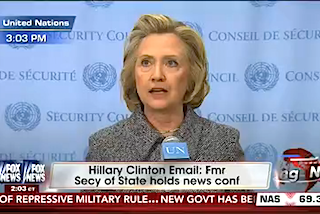 Following her speech about Women's Empowerment Principles at the United Nations Tuesday afternoon, Hillary Clinton publicly addressed the uproar over her exclusive use of a personal email address while serving as secretary of state during a short press conference with reporters.
Clinton began by reiterating some points she made about progress for women and girls around the world and sharing her view on the letter sent by 47 GOP senators to Iran, now that she knew the TV networks were actually broadcasting what she had to say instead of talking over her UN speech. Only then did she move on to discuss the emails, laying out four things she wanted to public and the media to know.
1. "When I got to work as secretary of state, I opted for convenience to use my personal email account, which was allowed by the State Department, because I thought it would be easier to carry just one device for my work and for my personal emails instead of two. Looking back, it would have been better if i'd simply used a second email account and carried a second phone, but at the time, this didn't seem like an issue."
2. "The vast majority of my work emails went to government employees on their government accounts, which meant they were captured and preserved immediately on the system at the State Department."
3. "After I left office, the State Department asked former secretaries of state for our assistance in providing copies of work-related emails from our personal accounts. I responded right away and provided all my emails that could possibly be work related, which totalled roughly 55,000 printed pages, even though I knew that the State Department already had the vast majority of them."
4. "I took the unprecedented step of asking that the State Department make all my work-related emails public for everyone to see. I am very proud of the work that I and my colleagues and our public servants at the department did during my four years as secretary of state. And I look forward to people being able to see that for themselves."
The likely 2016 presidential candidate proceeded to take a series of questions from reporters in which she mostly repeated elements of these four points.
Ahead of Clinton's press conference, the State Department announced that the work-related emails will be available for public view online after an internal review has taken place.
Watch video below, via Fox News:
[Photo via screengrab]
— —
>> Follow Matt Wilstein (@TheMattWilstein) on Twitter
Have a tip we should know? tips@mediaite.com