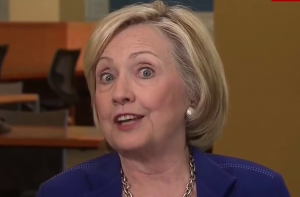 In the first sit-down interview since her presidential announcement, Hillary Clinton told CNN's Brianna Keilar that she thought the release of her work emails after a contentious lawsuit was "kind of fun."
"I think there's a lot of people who don't understand what your thought process was on that," Keillar said in regards to Clinton's private email server." Can you tell me the story of how you decided to delete 33,000 e-mails and how that deletion was executed?"
"Well, let's start from the beginning, everything I did was permitted," Clinton said. "There was no law, there was no regulation, there was nothing that did not give me the full authority to decide how I was going to communicate."
Clinton said that previous Secretaries of State had done the same. "They used a personal server, and while facing a subpoena, deleted e-mails from them?" Keilar pressed?
"You know, you're starting with so many assumptions — I've never had a subpoena, there's nothing — again, let's take a deep breath here," Clinton responded. "….Now, I didn't have to turn over anything. I chose to turn over 55,000 pages because I wanted to go above and beyond what was expected of me because I knew the vast majority of everything that was official already was in the State Department system,"
"And now I think it's kind of fun. People get a real-time behind-the-scenes look at what I was e-mailing about, and what I was communicating about," she added.
"Wearing warm socks, as you said to John Podesta. Working a fax machine," Keilar listed as she laughed.
"A secure fax machine, which is harder to work than the regular," Clinton immediately corrected.
Watch, via CNN:
[Image via screengrab]
——
>>Follow Alex Griswold (@HashtagGriswold) on Twitter
Have a tip we should know? tips@mediaite.com