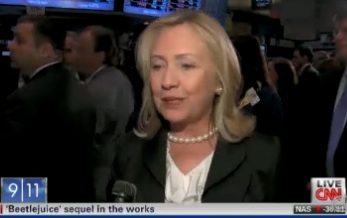 In a bit of news that's news to no one, Secretary of State Hillary Clinton threw cold water on the possibility that she might mount a primary challenge to President Obama, then froze that water. Asked Friday, by CNN's Alison Kosik, if she would consider running in 2012, Clinton said the chances of that were "below zero."
Chalk up a win for WorldNetDaily's Les Kinsolving, though, for getting CNN to take the suggestion that he elicited from White House Press Secretary Jay Carney.
With the wind of WorldNetDaily and former VP Dick Cheney at her back, Kosick asked Clinton, "What's the likelihood that you're going to challenge President Obama in the primary? You know, you've got Dick Cheney in your court."
"Oh, yeah," Clinton replied with a laugh, "it's below zero."
Kosik then asked about Cheney's statement that Hillary would have made a better president than Barack Obama, to which she replied that she was glad to be "out of politics, and not interested in being drawn back into it by anybody."
With a recommendation like that, though, can you blame her? That's like getting Pontius Pilate to endorse you for Savior.
Ms. Clinton also said she has no plans to reenter politics in the future.
When Les Kinsolving asked Jay Carney about the possibility of a Clinton challenge a few weeks ago, he drew an amused reaction, and a suggestion that he ask Secretary Clinton herself about it. No one, including Les, I'm sure, seriously thought Clinton would mount a primary challenge. It does, however, serve as a reminder of how great that Clinton/Obama campaign was for the political media. Everyone's memory tends to stop at the Sarah Palin supernova, but it was Clinton/Obama that really took the sport of political ping-pong to 11. This year's Republican primary will be hard-pressed to come close to matching it for entertainment value.
Here's the clip, from CNN:
Have a tip we should know? tips@mediaite.com