Hillary Clinton Speaks at DNC: We Can't Risk a President 'You Can Bait With a Tweet'!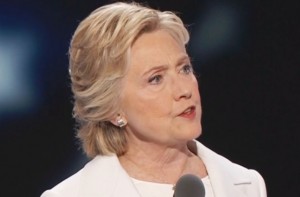 Hillary Clinton finally spoke tonight at the Democratic National Convention and celebrated the historic nature of her victory with the declaration "When the glass ceiling is shattered, the sky's the limit!"
She thanked a lot of people, from her husband to President Obama to Tim Kaine, but she gave a special shoutout to Bernie Sanders.
"Bernie," Clinton said, "your campaign inspired millions of Americans, particularly the young people who threw their hearts and souls into our primary. You put economic and social justice issues front and center where they belong."
She went through America's history of overthrowing tyrants before saying, "Now America is once again at a moment of reckoning. Powerful forces are threatening to pull us apart. Bonds of trust and respect are fraying."
Clinton declared that Trump has "taken the Republican Party a long way from morning in America to midnight in America," rebutting his policies on immigration and Muslims in strong terms.
She acknowledged the problems facing America but asked the audience to "look for a minute at the strengths we as Americans bring to these challenges," specifically asking people to reject Trump's "I alone can fix it" rhetoric:
"Really? 'I alone can fix it'?… Americans don't say 'I alone can fix it,' we say, 'Let's fix it together!'"
She soon pivoted to talking about her own family, saying in an aside, "I get it that some people just don't know what to make of me." Clinton put the challenges America faces in very personal terms, recalling people she has met over the years, and even gave a shoutout to the Republicans and independents supporting her.
She laid out her agenda, including overturning Citizens United and not kicking out immigrants. Clinton even said, "And I believe in science!"
And then came the case against Trump. She mocked his supposed business acumen, played up the same "con" angle that others have said about him without directly saying the words, and called him out for talking "a big game about putting America first" when he makes his products abroad.
And she wasn't done there:
"You really think Donald Trump has the temperament to be Commander-in-Chief? Donald Trump can't even handle the rough-and-tumble of a presidential campaign! He loses his cool at the slightest provocation… Imagine him in the Oval Office facing a real crisis! A man you can bait with a tweet is not a man we can trust with nuclear weapons!"
She brought up his mockery of so many different groups and said, "There is no other Donald Trump. This is it. And in the end, it comes down to what Donald Trump doesn't get. America is great because America is good."
At multiple points during the speech, the crowd erupted in chants of "Hillary! Hillary!" when pro-Bernie Sanders delegates began to protest.
Watch above, via CNN.
[image via screengrab]
— —
Follow Josh Feldman on Twitter: @feldmaniac
Have a tip we should know? tips@mediaite.com
Josh Feldman - Senior Editor