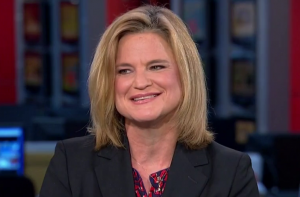 Hillary Clinton's communications director Jennifer Palmieri was barraged with difficult questions during a Monday appearance on MSNBC's Morning Joe, including questions about the embarrassing images of reporters being strung along by a rope during Clinton's appearance in a parade.
"What do you think? Is that future of presidential presence?" asked host Joe Scarborough.
"What happened here?" added co-host Willie Geist.
"So I think that, you know, here's – it's a good time to talk about our theory on press access and the campaign," Palmieri said.
Scarborough erupted into laughter. "Yes, it is."
"So we're trying to allow as much access as possible, but my view is it can't get in the way of her being able to campaign, right?" she continued. "…what we tried here was– you could do a thing where you preset press along the way. And we said, 'Let's let them just be open,' that's how we did in other parades, and see what happens. I wasn't there, I saw some press reports that described it as chaotic. And so they put the rope up… so the parade could continue and she could talk to voters."
"Can't you go and put them in the back of an open pickup truck– we used to do that sometimes– and then they roll?" asked former Bush communications chief Nicolle Wallace.
"Yeah, we don't have, you know, we don't have all of the vehicles that you might have in the campaign later date," Palmieri said.
Watch, via MSNBC:
[Image via screenshot]
——
>>Follow Alex Griswold (@HashtagGriswold) on Twitter
Have a tip we should know? tips@mediaite.com