Hillary Email Dump Shows CNN Really Needs to Rethink Relationship with Paul Begala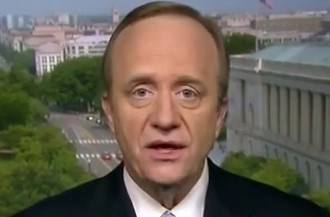 CNN really needs to rethink its relationship with political analyst Paul Begala…
Seems like a fun and funny guy — Happy Hour and all the dirt he could share would be a hoot to hear about. But the conflict of interest — and let's face it, the line between media and politicos is so blurred these days it's hard to find on-air talent without at least a little — may still be too much for the network to justify paying him. Because after reading the following from the latest Hillary Clinton email dump (the ones her staff wants us to see, anyway), this is what the New York Times uncovered:
While an ostensibly nonpartisan figure as secretary, Mrs. Clinton clearly still worried about retiring her $23 million campaign debt from 2008. "Thank you so very much!!!" her chief of protocol, Capricia Marshall, wrote to Paul Begala, a longtime Clinton friend and Democratic strategist, in April 2009. "We raised 500K from the email contest!! You are all amazing — the world adores you!" She added, "You put a serious hole in HRC debt!"

Mr. Begala [asked] for talking points before he went on CNN to rate Mrs. Clinton's early performance. Ms. Marshall referred him to several State Department aides. After his appearance, Mr. Begala emailed back: "I gave Sec. Clinton an A+ in our dopey CNN report card last night." Ms. Mills forwarded that to Mrs. Clinton with an "FYI."
No need to review and connect the dots here too deeply here. Begala asked the friggin' State Department how he should think on national television regarding Hillary Clinton's performance as Secretary of State. Just check off all the boxes:
Serious conflict of Interest? Check.
Makes the audience seriously question his credibility? Check.
Characterized a CNN segment that was supposed to be somewhat serious "dopey" – which producers there must have loved to hear? Check.
Ran an email contest while employed by CNN to retire $500,000 in campaign debt from Mrs. Clinton's failed 2008 presidential campaign? Check.
Need more proof? Here's an email directly from Begala to the State Department that's making the rounds all over Twitter:
so @PaulBegala couldn't name any Hillary accomplishments from her first 100 days, so he asked her staff 1/2 pic.twitter.com/eC53VUMvJy

— Greg Pollowitz (@GPollowitz) July 1, 2015
It's hard to imagine a scenario where this is a one-and-done kind of act. Partisans exist everywhere in cable news. That's understood. But this is written collusion between government officials and a veteran media member and therefore a whole new bowl of wrong. CNN needs to have a long conversation with Begala and ask him if he's done this kind of thing again and if so…how often. And regardless of answer — because denial is likely the route almost anyone would take with so much to lose — needs to really consider what to do with him next.
And soon.
— —
>> Follow Joe Concha on Twitter @JoeConchaTV
Have a tip we should know? [email protected]
---