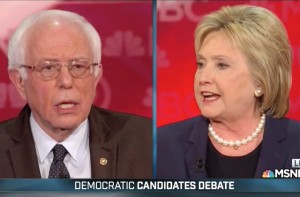 If you were waiting for an actual fight at one of these Democratic debates, wait no longer. Hillary Clinton really let loose on Bernie Sanders during tonight's MSNBC debate for orchestrating what she deemed an "artful smear" on her integrity.
After Sanders said Clinton represents the establishment, Clinton responded, "Senator Sanders is the only person who I think would characterize me, a woman running to be the first woman president, as exemplifying the establishment. It is really quite amusing to me."
She continued to call herself a progressive who can get things done, but Sanders brought up the money she's been given from Wall Street and the drug companies.
Clinton got very testy and said, "I've tried to keep my disagreements over issues, as it should be. But time and time again, by innuendo, by insinuation, there is this attack that he is putting forth."
And that was only the beginning:
"I really don't think these kinds of attacks by insinuation are worthy of you. And enough is enough. If you've got something to say, say it directly. But you will not find that I ever changed a view or a vote because of any donation that I have ever received… I think it's time to end the very artful smear that you and your campaign have been carrying out in recent weeks and let's talk about the issues."
As she used the phrase "artful smear," Clinton was booed.
Sanders fired back by going on a tear about how special interests buy off politicians all the time. Clinton said that no one has been more targeted by those special interests than her.
Watch above, via MSNBC.
[image via screengrab]
— —
Follow Josh Feldman on Twitter: @feldmaniace
Have a tip we should know? tips@mediaite.com
Josh Feldman - Senior Editor