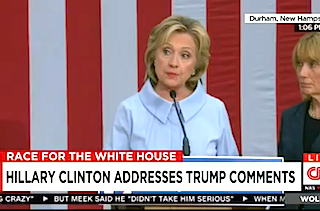 Following strong reactions from both sides of the 2016 presidential campaign — in the form of Bernie Sanders on the left and Chris Christie on the right — Hillary Clinton got her chance to weigh in on Donald Trump's refusal to correct a supporter who labeled President Barack Obama a non-American Muslim at a New Hampshire press conference Friday afternoon.
The Democratic frontrunner first put out this strongly-worded tweet last night:
Donald Trump not denouncing false statements about POTUS & hateful rhetoric about Muslims is disturbing, & just plain wrong. Cut it out. -H

— Hillary Clinton (@HillaryClinton) September 18, 2015
But today, she issued an even sharper condemnation of Trump's silence. "I was appalled," Clinton said, reiterating her "great disappointment with that kind of rhetoric" and called on Trump "and anybody else who is seeking the highest office of the land, to start behaving like a president, to show respect and to stand up for the truth."
"He knew or he should have known that what that man was asking was not only way out of bounds, it was untrue," she continued. "And he should have, from the beginning, repudiated that kind of rhetoric, that level of hatefulness in a questioner in an audience that he was appearing before. So I would call on him and call on all of the candidates to stop this descent into the kind hateful, mean-spirited, divisive rhetoric that we have seen too much of in the last months."
While Clinton did not think that a man like the one who questioned Trump would come to one of her events, but if he did, she said she would have "called him out" on it. She would have told him "that has no place in a political discussion like the one we are trying to have here, and not only is it out of place and wrong, it is totally factually untrue, and to quit impugning the integrity of the president."
"I think it is prejudiced, I think it is discriminatory, and I think that it comes out of the unfortunate reservoir of hateful rhetoric that we have seen too much of where people are being set against one another, and that has no place in our politics," she said.
As for the Trump campaign's insistence that the GOP frontrunner did not hear the man's comment, Clinton said the candidate needs to address that directly himself.
Watch video below, via CNN:
[Photo via screengrab]
— —
>> Follow Matt Wilstein (@TheMattWilstein) on Twitter
Have a tip we should know? tips@mediaite.com