Hillary Spox: She Didn't Change on Gay Marriage, Media Just Asked Different Questions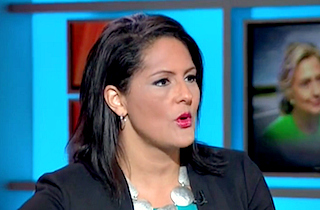 Politico's Dylan Byers spotted an interesting rhetorical maneuver from former MSNBC host and current Hillary Clinton spokesperson Karen Finney that occurred on Monday, when Finney denied Clinton's evolution/flip-flop on gay marriage and instead said the candidate only appeared to have changed her position due to inconsistent wording of the question.
Last week the Clinton camp quietly amended the Democratic frontrunner's position on gay marriage, asserting that she now believes it should be a constitutional or nationwide right. That was a change from her prior opinion that it should be decided on a state level, most recently and notably stated during a somewhat tense interview with NPR's Terry Gross.
But the switch was in your lying ears, per Finney. "[There was] no change of heart," Finney told her former network Monday. "[She] was asked a different question than she was asked before."
Finney reiterated the point again later in the afternoon. "Last week there was a question about where she was on marriage equality," she said. "She's had a consistent position on that, despite the way it was reported."
YMMV. In Gross' interview Clinton never explicitly stated she preferred a state-by-stare solution, as exclusive of a constitutional right, merely that it was the process that was "working" at the time, and Gross never explicitly asked her. You know, if we're being technical. Clinton did object in that interview that Gross was playing with her words to assign to her a position she did not hold.
Watch the clips below, via MSNBC:
[h/t Politico]
[Image via screengrab]
——
>> Follow Evan McMurry (@evanmcmurry) on Twitter
Have a tip we should know? tips@mediaite.com