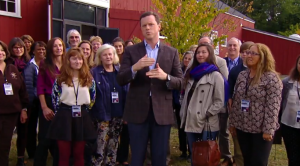 Just yesterday I praised Secretary Hillary Clinton for killing in her SNL appearance this weekend; Clinton carried half the dialogue in a full sketch, rather than just the throwaway line or two usually relegated to political guests. I was impressed with her comedic chops and argued that she showed glimpses of what she needs to power ahead in the campaign.
However, as I settled in to my desk at Mediaite this morning, I turned on the NBC Today Show to find coverage of an event branded as "A Town Hall with Hillary Clinton," live from Hollis, New Hampshire. I realized that the NBC red carpet procession being rolled out for Clinton just jumped the shark into the absurd, and I was left incredibly disappointed. A well-written sketch on SNL is one thing; I expect many more presidential candidates in this cycle to make similar appearances this season. However, I find it hard to imagine the courtesy of a devoted block of morning television for most other candidates.
The powers that be at NBC have clearly struggled along in recent months as their coronated candidate of preference has taken hit after hit. This morning's telecast that featured hosts Savannah Guthrie and Willie Geist was meant to present the exalted Clinton on the pedestal of small town Americana. Before cutting to commercial, the producers even staged Clinton to stand over a pancake griddle, a hokey visual which, I assume, is meant to further the "humor and heart" campaign narrative.
If there's any indicator about the true intentions of the horribly staged Clinton Town Hall, it was blurted out by Matt Lauer back in New York, who gleefully proclaimed, "By the way: Hillary Clinton is trending this morning!". The media pull to sensationalize an unbalanced interview hit its peak, encouraging noise in the morning social media landscape. I could hear the collective cheers from 30 Rockefeller Center halfway across Midtown.
Though a couple of seemingly "tougher" questions were squared at Clinton, the Town Hall mostly gave her the chance to drill teed up anecdotes with the eye-rolling preparedness of bad late night interviews. This was an actual question that Hillary Clinton was asked: "Did you ever get fired from a job? If so, why?".
What a humdinger. Here are two others asked of the next potential Commander In Chief: "What's your favorite unhealthy celebratory drink?" and "What song or instrument would you play [at your inauguration]?".
Listen, I understand the game that everyone must play at the highest levels of the politics and media intersection. Lightly lobbed softballs are a part of the process; just this weekend, Eric Bolling asked Donald Trump how much he benches. But seeing a media powerhouse like NBC kowtow to the Clinton camp through a staged event like today's Town Hall is a joke. Guthrie at one point, perhaps feeling the pressure of the overt favoritism, remarked that GOP frontrunner Trump was also offered, and accepted, the same style Town Hall.
This summer members of the media were "corralled with rope" to keep distance between them and Clinton; now, Clinton has made strong allies with the benevolent powers at NBC, who seem to provide a safe haven for delivering Clinton's message.
As if this influence needed to be underlined, Geist stood with a group of supporters outside the Clinton event and said, "If you want to be the nominee, you've got to win in this state". It leaves me asking the question: do certain candidates get media opportunities because they inherently drive ratings, or do ratings spike around candidates because they're given more airtime? Where does the line get drawn as to who receives the NBC bump? Time will tell who else outside of Trump gets this level of personalized pandering and attention, but it's a safe bet to assume we won't see Jim Webb or Bobby Jindal standing over a pancake griddle anytime soon.
[image via screengrab]
—
>> Follow J.D. Durkin (@MediaiteJD) on Twitter
Have a tip we should know? tips@mediaite.com