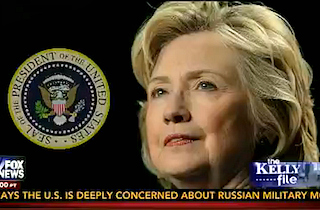 Hillary Clinton — who holds no office and is not currently in contention for one — was "back in the news" last week, as cable hosts like to put it, so as to make it seem as if they're not consciously choosing to cover her over more pressing events.

After taking a break from Hillary overkill last week, two of the three major cable news channels ratcheted their coverage back up. While CNN should be commended for maintaining its relatively modest coverage, MSNBC and Fox both gorged on Clinton, with Fox tripling the number of segments it ran on the former Secretary of State from the previous week: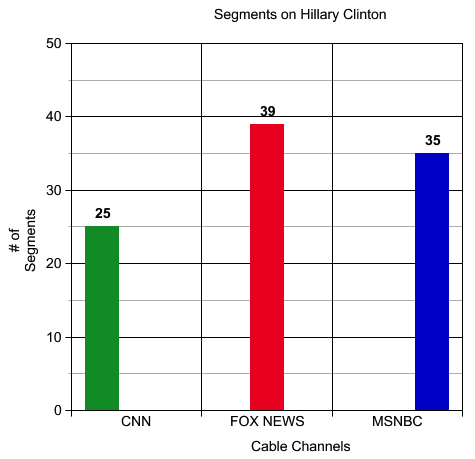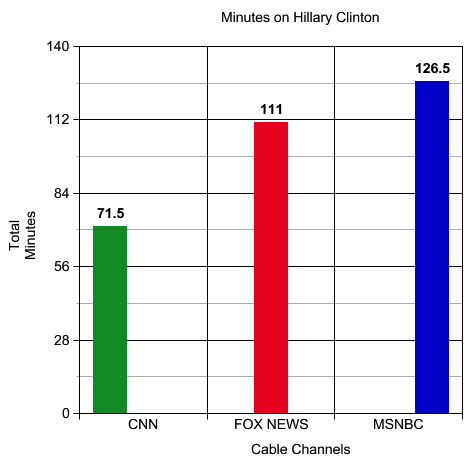 Much of this coverage was driven by the impending release of 33,000 pages of Clinton archives, which sent Fox salivating over the potential trove of opposition research. MSNBC, meanwhile, kept at the horse-race aspect of Clinton's non-existent presidential campaign. (More than 10% of MSNBC's coverage of Clinton came from Steve Kornacki's Saturday morning show alone.) Clinton also made a speech in Miami, and — pro-tip! — Florida is a swing state.
Methodology: The study tracked cable news coverage from Monday, February 24 to Sunday, March 2, and counted any sustained discussion lasting more than thirty seconds and involving more than a passing allusion to Clinton (thus excluding segments on, say, Mitch McConnell's response to Bill Clinton campaigning with Alison Lundergran Grimes, which included a Hillary reference). However, any on-screen graphic of 2016 poll numbers citing Clinton automatically counted as a segment. All repeats, teasers, and show intros were excluded.
Eternal disclaimer: there are 978 days until the 2016 election.
Previous Editions:
HillaryWatch: MSNBC Spent More Time on Clinton Than Fox and CNN Combined
HillaryWatch: Last Week Cable News Spent More Than 400 Minutes on Hillary Clinton
HillaryWatch: Last Week Cable News Devoted 80 Segments to Hillary Clinton
[Image via screengrab]
——
>> Follow Evan McMurry (@evanmcmurry) on Twitter
Have a tip we should know? tips@mediaite.com