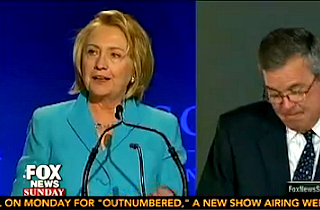 Last week, Fox News broke MSNBC's weeks-long dominance of coverage of Hillary Clinton — who, once again, does not hold an office and is not currently in contention for one — as the network as a whole overdosed on State Department spokesperson Jen Psaki's inability to name an accomplishment from Clinton's tenure as Secretary of State.

MSNBC approached Fox in the number of segments dealing with Clinton, but Fox blew both competitors away on time spent on the former Secretary of State. (Some errant Benghazi stories helped out as well.) Here, have some charts: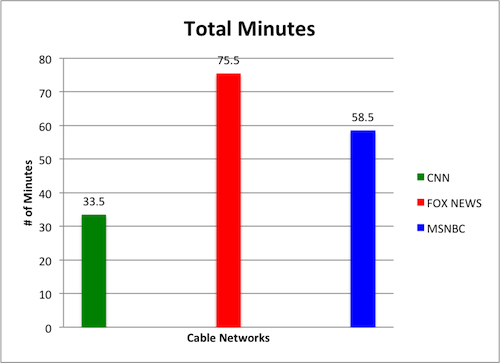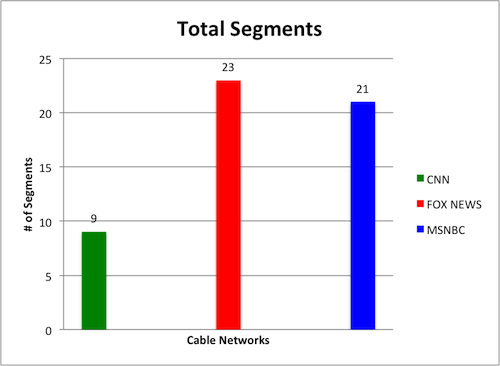 Aside from Fox's fixation, little changed in the cable coverage of the far-off hypothetical presidential candidate. Discussion of Elizabeth Warren's book drove some coverage, while the right's trolling of Clinton's age popped up as well.
This week's HillaryWatch Award, given for best reference to the absurdity of Clinton overkill while also participating in it, goes to Chris Wallace, who sounded exhausted on Fox News Sunday with the thought of "the dynasties" of the Clintons and Bushes, their tiresome permanence not helped by the political press' refusal to let them out of eyesight.
Methodology: The study tracked cable news coverage from Monday, April 14 to Sunday, April 20, and counted any sustained discussion lasting more than thirty seconds and involving more than a passing allusion to Clinton; thus, a mention of Clinton as a 2016 rival during an Elizabeth Warren segment was excluded, while continuous discussion of how of the two would impact each others' likelihood of running (there can only be one female candidate per party) was included. However, any on-screen graphic of 2016 poll numbers citing Clinton automatically counted as a segment. All repeats, teasers, and show intros were excluded.
Eternal Disclaimer: there are 923 days until the 2016 election.
Previous Editions:
HillaryWatch: MSNBC Gets a Clinton Coverage Baby Bump
HillaryWatch: Take a Guess as to Why Fox Covered Clinton So Much
HillaryWatch: MSNBC Continues to Cover Clinton More than Other Two Networks Combined
HillaryWatch: Missing Plane Speculation (Mostly) Replaces Clinton 2016 Speculation
HillaryWatch: Not Even Missing Planes and Russian Tanks Can Tear MSNBC from Hillary
HillaryWatch: CNN Leads in Clinton Coverage, MSNBC Lays Off for a Change
HillaryWatch: Fox Couldn't Get Enough of Hillary Clinton Last Week
HillaryWatch: MSNBC Spent More Time on Clinton Than Fox and CNN Combined
HillaryWatch: Last Week Cable News Spent More Than 400 Minutes on Hillary Clinton
HillaryWatch: Last Week Cable News Devoted 80 Segments to Hillary Clinton
[Image via screengrab]
——
>> Follow Evan McMurry (@evanmcmurry) on Twitter
Have a tip we should know? tips@mediaite.com