HillaryWatch: Missing Plane Speculation (Mostly) Replaces Clinton 2016 Speculation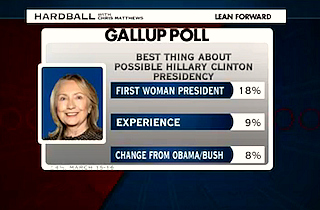 For the second week in a row, the missing Malaysia Airlines flight MH370 and Russia's annexation of the Crimean peninsula kept cable news' coverage Hillary Clinton — who currently holds no office and has not announced a candidacy for one — relatively low.

Once again, MSNBC maintained more of an interest in Clinton in the face of more pressing stories, accounting for considerably more segments and time spent on Clinton — though their numbers last week were still low compared to peak Clinton coverage of last month. Hardball host Chris Matthews alone logged more time on the hypothetical candidate than either of the two other networks.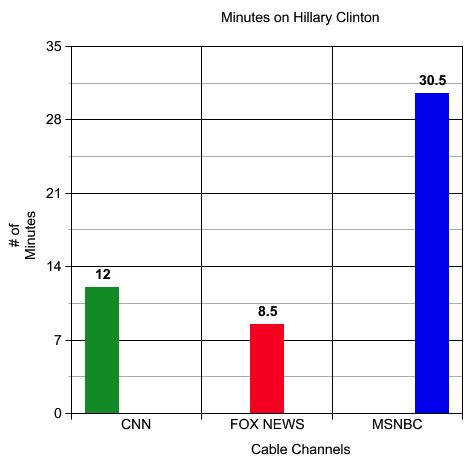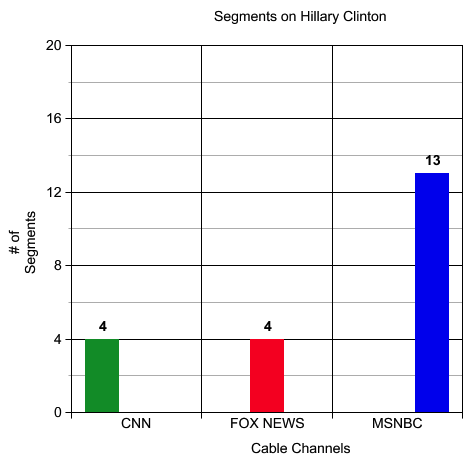 Mediaite has been tracking Clinton coverage long enough to begin drawing some provisional conclusions. CNN is the quickest to cover Clinton when she's "in the news" (cable pundit parlance for "We're consciously choosing to cover her"), but also the quickest to turn away to another news story. Fox holds on to Clinton longer, especially if it can find a critical angle thanks to a comment about Bill Clinton's sexual proclivities or the release of archived material or that old stand-by, Benghazi.
MSNBC appears to be the one network that will continue to pay Clinton attention, even when other stories present themselves. (Or, looked at another way, they were less distracted by a certain cable news void that shall remain nameless.)
A chart of the past seven weeks' worth of coverage: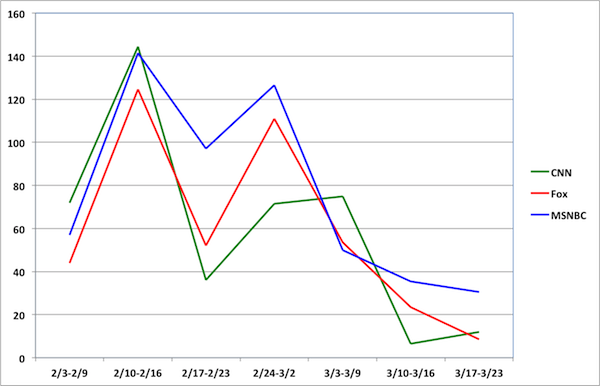 Methodology: The study tracked cable news coverage from Monday, March 17 to Sunday, March 23, and counted any sustained discussion lasting more than thirty seconds and involving more than a passing allusion to Clinton (thus excluding, say, a passing reference to Clinton as First Lady while discussing Michelle Obama's trip to China). However, any on-screen graphic of 2016 poll numbers citing Clinton automatically counted as a segment. All repeats, teasers, and show intros were excluded.
Eternal Disclaimer: there are 958 days until the 2016 election.
Previous Editions:
HillaryWatch: Not Even Missing Planes and Russian Tanks Can Tear MSNBC from Hillary
HillaryWatch: CNN Leads in Clinton Coverage, MSNBC Lays Off for a Change
HillaryWatch: Fox Couldn't Get Enough of Hillary Clinton Last Week
HillaryWatch: MSNBC Spent More Time on Clinton Than Fox and CNN Combined
HillaryWatch: Last Week Cable News Spent More Than 400 Minutes on Hillary Clinton
HillaryWatch: Last Week Cable News Devoted 80 Segments to Hillary Clinton
[Image via screengrab]
——
>> Follow Evan McMurry (@evanmcmurry) on Twitter
Have a tip we should know? tips@mediaite.com