HillaryWatch: MSNBC Continues to Cover Clinton More than Other Two Networks Combined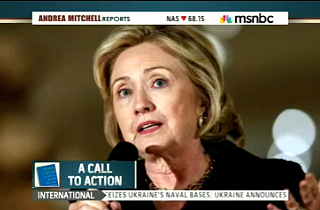 MSNBC continues to focus on Hillary Clinton and her entirely hypothetical presidential campaign far more than its cable news rivals, logging more than double the other channels' coverage combined last week.
As noted previously, CNN is quickest to turn from the former Secretary of State, especially when there's a big news story it can bite on (whatever could that be?), while Fox will report on Clinton so long as it can find a critical angle–in last week's case, Clinton's supposed "distancing" of herself from President Barack Obama's various policies.
But MSNBC once again paid far more attention to the presumptive Democratic favorite, helped along last week by several spots from David Brock, a former Clinton-era right wing attack dog turned liberal media critic, who appeared on lengthy segments on both Up with Steve Kornacki and Hardball with Chris Matthews. This is the third week in a row MSNBC has led in Clinton coverage.
Check out the data below: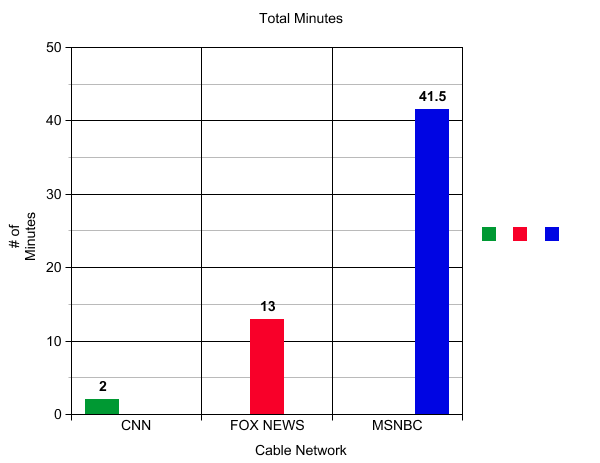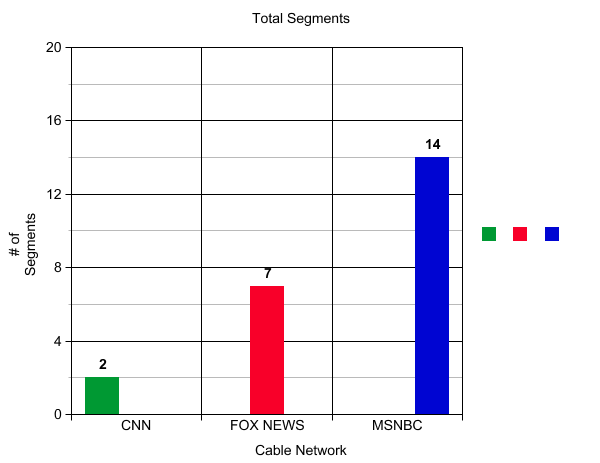 This week's HillaryWatch Award for best reference to the absurdity of Clinton overkill while also participating in it goes to Luke Russert, who, while guest-hosting The Daily Rundown, characterized Clinton's public appearances as a sort of pre-campaign and asked, "How much longer are we going to be dragged through this?"
Methodology: The study tracked cable news coverage from Monday, March 24 to Sunday, March 30, and counted any sustained discussion lasting more than thirty seconds and involving more than a passing allusion to Clinton; thus, a mention of Clinton as a possible 2016 opponent during a Chris Christie segment was excluded, while continuous discussion of how various potential GOP candidates stacked up against Clinton was included. However, any on-screen graphic of 2016 poll numbers citing Clinton automatically counted as a segment. All repeats, teasers, and show intros were excluded.
Eternal Disclaimer: there are 950 days until the 2016 election.
Previous Editions:
HillaryWatch: Missing Plane Speculation (Mostly) Replaces Clinton 2016 Speculation
HillaryWatch: Not Even Missing Planes and Russian Tanks Can Tear MSNBC from Hillary
HillaryWatch: CNN Leads in Clinton Coverage, MSNBC Lays Off for a Change
HillaryWatch: Fox Couldn't Get Enough of Hillary Clinton Last Week
HillaryWatch: MSNBC Spent More Time on Clinton Than Fox and CNN Combined
HillaryWatch: Last Week Cable News Spent More Than 400 Minutes on Hillary Clinton
HillaryWatch: Last Week Cable News Devoted 80 Segments to Hillary Clinton
[Image via screengrab]
——
>> Follow Evan McMurry (@evanmcmurry) on Twitter
Have a tip we should know? tips@mediaite.com