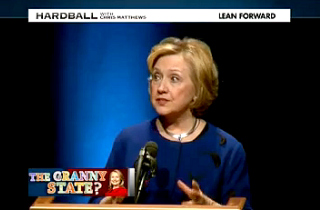 Cable news' Hillary Clinton coverage is expecting.
All three networks devoted plenty of time last week to Clinton — who, once again, does not hold a public office and is not currently in contention for one — as news that she was becoming a grandmother spawned discussions, conspiracy theories, discussions of the conspiracy theories, and more.

In what's become a woeful habit, MSNBC led the pack, spending 102 minutes of airtime on Clinton. The network focused on the right's theories about the timing of Chelsea Clinton's pregnancy — which, to their credit, were legion and zany — as well as some theories about the bananas shoe thrower being secretly in Clinton's employ. This was on top of their standard electoral segments, in which constant concern trolling of the GOP's splintered 2016 bench is eagerly aired over less-joyful discussions of the Democrats' 2014 midterm challenges. You look at charts now: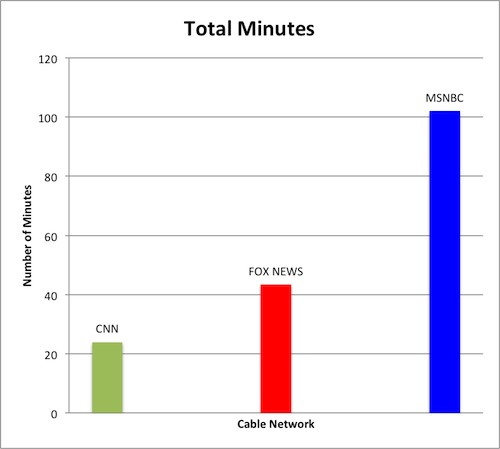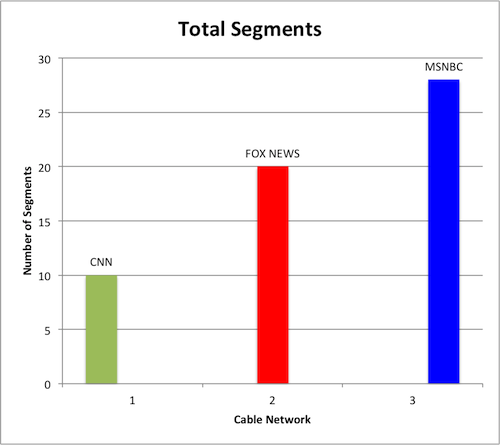 Fox News spent less time on Clinton than MSNBC did, but notice the network did still talk about her plenty. Fox seemed to have done that to itself, finding in its own poll that Clinton was more trustworthy than top tier GOP candidates; this induced much howling of "Benghazi!!!!," Fox's version of MH370.
Some highlights: CNN called Chelsea Clinton's baby a "bombshell," which is an odd thing to call a fetus; and Fox News' Clayton Morris wondered how often we're going to see the clip of Clinton's infamous "What difference does it make" moment at a 2013 Benghazi hearing during campaign season, as if Fox had any plans other than to run it on a constant loop between now and when I die.
Methodology: The study tracked cable news coverage from Monday, April 14 to Sunday, April 20, and counted any sustained discussion lasting more than thirty seconds and involving more than a passing allusion to Clinton; thus, a mention of Clinton as a possible 2016 opponent during a Jeb Bush segment was excluded, while continuous discussion of how various potential GOP candidates stacked up against Clinton was included. However, any on-screen graphic of 2016 poll numbers citing Clinton automatically counted as a segment. All repeats, teasers, and show intros were excluded.
Eternal Disclaimer: there are 930 days until the 2016 election.
Previous Editions:
HillaryWatch: Take a Guess as to Why Fox Covered Clinton So Much
HillaryWatch: MSNBC Continues to Cover Clinton More than Other Two Networks Combined
HillaryWatch: Missing Plane Speculation (Mostly) Replaces Clinton 2016 Speculation
HillaryWatch: Not Even Missing Planes and Russian Tanks Can Tear MSNBC from Hillary
HillaryWatch: CNN Leads in Clinton Coverage, MSNBC Lays Off for a Change
HillaryWatch: Fox Couldn't Get Enough of Hillary Clinton Last Week
HillaryWatch: MSNBC Spent More Time on Clinton Than Fox and CNN Combined
HillaryWatch: Last Week Cable News Spent More Than 400 Minutes on Hillary Clinton
HillaryWatch: Last Week Cable News Devoted 80 Segments to Hillary Clinton
[Image via screengrab]
——
>> Follow Evan McMurry (@evanmcmurry) on Twitter
Have a tip we should know? tips@mediaite.com