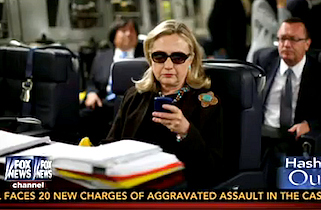 Fox News reemerged last week in the cable news binge on Hillary Clinton — who, once again, holds no office and is not currently in contention for one.

MSNBC has dominated Clinton coverage of late, due in part to her dominance in the non-existent 2016 presidential primary field. The network still led with the most time devoted to Clinton, though that mostly comprised twin lengthy segments from Chris Matthews and Lawrence O'Donnell, the latter devoting a straight thirteen minutes to the still far-off possibility of a Clinton/Bush 2016 race.
But Fox got its sleeve caught on the Benghazi nail last week, and couldn't stop bringing up Clinton over what it hopes will be her disqualifying mistake. Les charts: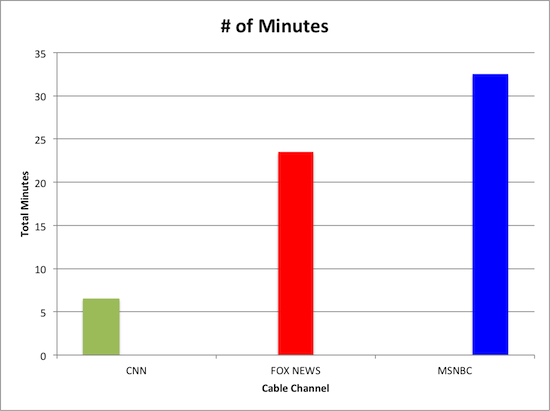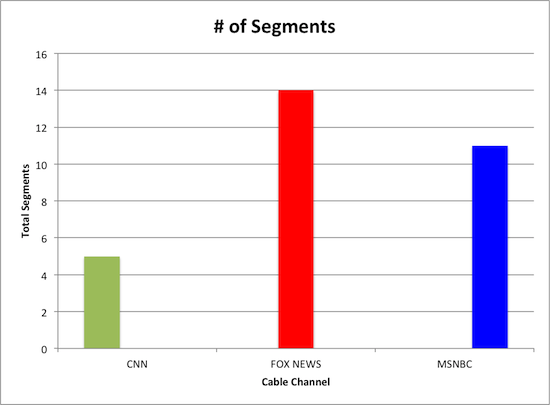 In other words, when Charles Krauthammer said Wednesday that the country was sick of hearing about Benghazi, this could be why.
Methodology: The study tracked cable news coverage from Monday, March 31 to Sunday, April 6, and counted any sustained discussion lasting more than thirty seconds and involving more than a passing allusion to Clinton; thus, a mention of Clinton as a possible 2016 opponent during a Chris Christie segment was excluded, while continuous discussion of how various potential GOP candidates stacked up against Clinton was included. However, any on-screen graphic of 2016 poll numbers citing Clinton automatically counted as a segment. All repeats, teasers, and show intros were excluded.
Eternal Disclaimer: there are 943 days until the 2016 election.
Previous Editions:
HillaryWatch: MSNBC Continues to Cover Clinton More than Other Two Networks Combined
HillaryWatch: Missing Plane Speculation (Mostly) Replaces Clinton 2016 Speculation
HillaryWatch: Not Even Missing Planes and Russian Tanks Can Tear MSNBC from Hillary
HillaryWatch: CNN Leads in Clinton Coverage, MSNBC Lays Off for a Change
HillaryWatch: Fox Couldn't Get Enough of Hillary Clinton Last Week
HillaryWatch: MSNBC Spent More Time on Clinton Than Fox and CNN Combined
HillaryWatch: Last Week Cable News Spent More Than 400 Minutes on Hillary Clinton
HillaryWatch: Last Week Cable News Devoted 80 Segments to Hillary Clinton
[Image via screengrab]
——
>> Follow Evan McMurry (@evanmcmurry) on Twitter
Have a tip we should know? tips@mediaite.com