Hip Hop-Hating Ben Carson Features Gospel Version of Eminem at Campaign Launch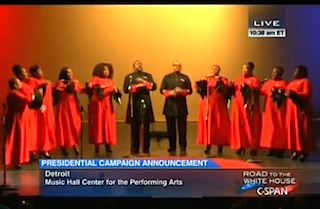 Dr. Ben Carson launched his 2016 presidential campaign in Detroit on Monday morning. So, naturally, there was a gospel choir performance of hometown favorite Eminem's "Lose Yourself" anthem from the film 8 Mile. While there is nothing inherently odd about this choice, it does seem a bit jarring in connection to comments the new candidate made last month about hip hop music and the black community.
"We need to reestablish faith in our communities and the values and principles that got us through slavery, that got us through Jim Crow, and segregation, and all kinds of horrible things that were heaped upon us," Carson said in an interview with New York R&B radio station WBLS. "Why were we able to get through those? Because of our faith, because of our family, because of our values, and as we allow the hip hop community to destroy those things for us, and as we grasp onto what's politically correct and not what is correct, we continue to deteriorate."
The hosts pushed back on his demonization of the music genre, to which Carson replied, "When I talk about the hip hop community, I'm talking about the aspect of modern society that pretty much dismisses anything that has to do with Jesus Christ, that's what I'm talking about."
Does Eminem fall into that category, or is there something about him that separates him from hip hop's supposed anti-Jesus message? And when you take a hip hop song and turn it into gospel, does that solve the issue? And perhaps most interestingly: What does Eminem think about his song being used as an anthem for the GOP candidate? We reached out to Interscope Records for reaction and will update this post accordingly.
Watch video below, via C-SPAN:
The Selected of God choir, who performed the song for Carson, also appeared with Eminem in a 2011 Chrysler Super Bowl ad. Watch below:
[Photo via screengrab]
— —
>> Follow Matt Wilstein (@TheMattWilstein) on Twitter
Have a tip we should know? tips@mediaite.com