Hip Hop Icon Questlove Walked Off Gig After Trayvon Verdict: 'Felt Like' 'I Was Watching My Own Trial'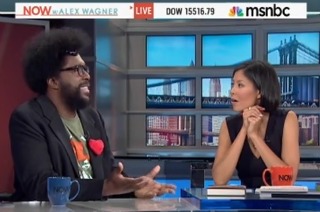 In an appearance on MSNBC's Now, hip hop icon and The Roots co-founder, Ahmir "Questlove" Thompson, told host Alex Wagner about his experiences in the immediate wake of the verdict which cleared George Zimmerman of criminal culpability for his role in the shooting death of Trayvon Martin. Thompson told Wagner that he walked off of a performance in Amsterdam when he learned of the verdict, noting that "it felt like I was watching my own trial."

Wagner read a portion of a post that Thompson wrote the day after the verdict was announced. Thompson wrote that "this whole Trayvon case has taught me: you ain't shit. That's the lesson I take from this case."
Thompson observed that America is supposed to be "post-racial," and added that he served in positions on both of President Barack Obama's winning presidential campaigns.
RELATED: Family Zimmerman Saved Won't Appear With Him In Public, 'Don't Want To Be Associated With George'
He recalled where he was the moment he learned of the verdict, saying that it was the one time he could remember walking off of a job. "It was the straw that broke the camel's back.
"I internalized it," Thompson said. "I felt like I was him, and that I was watching my own trial and this was the America — this is the message that America sent."
"The emotional impact – to be told 'your life isn't worth anything' – is, I mean, it's hard to believe that we're in that place in America," Wagner said. She added that Thompson's "Questness" is camouflage for his "blackness" and the "latent racism" that some people feel when they encounter the famous hip hop artist.
Watch the clip below via MSNBC:
> >Follow Noah Rothman (@NoahCRothman) on Twitter
Have a tip we should know? tips@mediaite.com