'His Private Parts?': 4 Big Questions Cut From Stormy Daniels' 60 Minutes Interview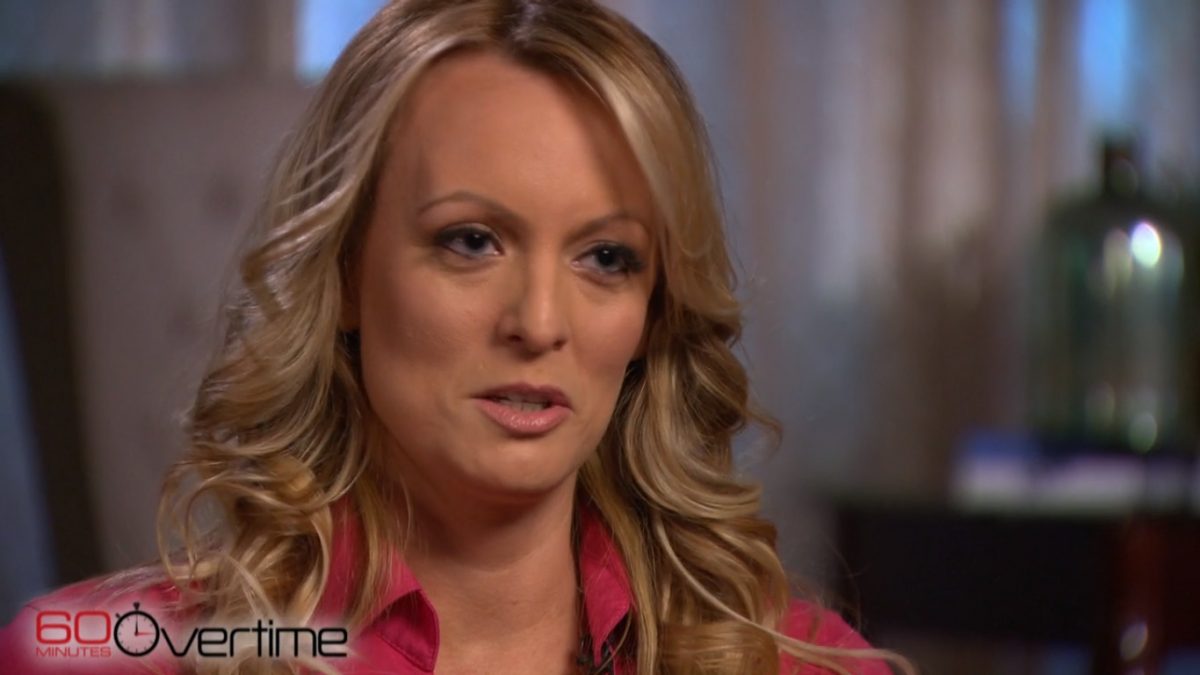 While last night's 60 Minutes interview with Stormy Daniels included numerous salacious details regarding the porn star's alleged sexual encounter with Donald Trump, a few of the best moments were cut out of the TV version — including questions about the president's "private parts."
Daniels, whose real name is Stephanie Clifford, appeared on CBS last night with Anderson Cooper in her first televised tell-all regarding her alleged relationship with Trump. She discussed the president's supposed interest in being spanked, him comparing her to his daughter Ivanka Trump, and even the threats Daniels claims to have received after the 2006 meeting.
However, a few quality quotes were saved for CBS' online Overtime vertical in a post-game interview between Cooper and Ann Silvio. Below are the four best snippets included exclusively in the web edition.
1. Daniels claims she was approached to make a parody porno of her sexual experience with Trump:
DANIELS: The entire time, the ten years this was going on, I was asked a few times to make parodies. Adult movie parodies make a lot of money. They get a lot of traction. They get a lot of press. They wanted me to make a movie. And I s–

COOPER: A movie of you having sex with somebody who looked like Donald Trump?

DANIELS: Right. And I said no repeatedly, much to their, you know–

COOPER: Why?

DANIELS: Because it's not how I wanted to be portrayed. I did not want this out there. Even though I could have capitalized on it and made money the entire time, I never did.
2. Daniels addresses accusations that she's trying to profit off her new found fame with her "Make America Horny Again" tour:
COOPER: It's hard for me to judge how viewers are going to interpret her from this interview. I mean, we try to paint as clear a picture and as truthful a picture of a person as we can. Clearly she's on this tour now—she said she didn't name it—the Make America Horny Again Tour, but that a club promoter did.

DANIELS: I had nothing to do with it.

COOPER: But isn't going on a tour with the name Make America Horny Again—that is playing off your current notoriety.

DANIELS: I– yes. But I haven't used that slogan. The clubs are putting it on their flyers, I haven't uttered it at all until just now, because I think it sounds really cheesy.
3. Daniels and Cooper discuss Trump's "private parts":
COOPER: Physically, you've seen him in ways that other people haven't?

DANIELS: Correct. And if need be, I can describe that.

COOPER: His private parts?

DANIELS: I could. If need be.
4. Daniels says she regrets her relationship with Trump in hindsight:
ANDERSON COOPER: Do you have any regrets about the sexual encounter with Donald Trump?

STORMY DANIELS: If I would have known 12 years ago that I'd be sitting here talking to you, no offense, then yes, I regret it.

ANDERSON COOPER: Because?

STORMY DANIELS: Because I don't like talking to you about this.
Watch the full Overtime segment here.
[image via screengrab]
Follow the author on Twitter (@calebecarma).
Have a tip we should know? tips@mediaite.com