HLN Airs Ridiculously Goofy Segment On How Jodi Arias Prosecutor Gets 'Rock Star Treatment' From Fans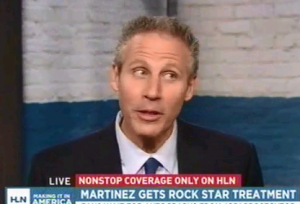 When you are going pretty much wall-to-wall with coverage of the Jodi Arias murder trial, as HLN has done to incredible ratings payoffs, you will naturally find yourself covering some… eh… silly stuff.
After the Arias trial abruptly suspended activities for today, HLN filled time with a video segment on how fans wait outside Maricopa County Superior Court for Arias prosecutor Juan Martinez, giving him the "rock star treatment" as they ask for his autograph and pose for pictures with him.
The creepiness is apparently bountiful. One woman who said she is "mesmerized" by the prosecutor, asks Martinez to sign her walking cane, of all things; a "throng of admirers" swarm the prosecutor to take turns posing with him; a fangirl recalls her shock at running into Martinez in the elevator lobby; another woman gushes about how he is such a "pitbull."
Suffice it to say, the video stopped short of suggesting girls throw their panties at Martinez when he walks out of the courthouse.
One soundbite applauds Martinez as a guy who's got a "couple of people on death row right now." Yay! Let's get his autograph?
Naturally, after the video ended, we got to hear an in-studio discussion about Martinez's "rock star status." Host Vinnie Politan and former prosecutor Monica Lindstrom ran through a gaggle of questions: Does having so many fangirls affect your ability to judiciously prosecute a case? Does Martinez amplify his persona in the courtroom because he knows thousands are watching? Would it be important for him to smile on occasion, like he does for his fans, but during the trial?
Watch below, via HLN:

Have a tip we should know? tips@mediaite.com