HLN Contributor's Name Attached to Hoax Sexual Harassment Lawsuit Against Johnny Manziel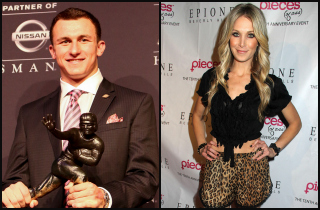 HLN contributor and Dr. Drew On Call co-host Samantha Schacher has seemingly filed a sexual harassment lawsuit against Cleveland Browns quarterback Johnny Manziel. UPDATE — 11:48 a.m.: An HLN spokesperson confirmed that it was a hoax suit filed by someone other than Schacher.
The lawsuit accuses the former Texas A&M football star — widely known as "Johnny Football" — of repeatedly sending nude selfies to Schacher. The plaintiff seeks $25 million in damages from the newly-minted NFL quarterback for allegations like: "On Christmas Eve, 2013, Johnny Manziel sent me a Instagram photo of himself naked to me [sic] Facebook with Manziel putting a hotdog bun between his penis, smiling, calling me 'Ho, Ho, Ho,' then called me up and told me he wanted a threesome with Dr. Drew."
If that seems a bit odd, here are some other insane highlights from the document:
"Johnny Manziel refers to his penis as his Vienna Sausage and told me good things come from small packages."
"Manzeil sent me a homemade video of himself at Walt Disney World on "It's a Small World" ride in the Magic Kingdom, and while the song is on, he puts the camera down and unbuttons his pants, pulls his penis out and jingles his penis to the music."
"Manziel keeps prank calling me with some 1990s song 'Don't Want No Short Man, Eenie, Weenie Little Srivel Short Man," which is disgusting."
The football star's agent vehemently denies the veracity of the lawsuit's claims, and/or its authenticity:
This joke "lawsuit" is obviously 1000000% fake and/ or frivolous. Embarrassing I even have say this after reading the nonsense.

— Erik Burkhardt (@ErikBurkhardt) May 23, 2014
The complaint itself was filed using the CNN headquarters address in Atlanta, leading some to think this is, indeed, a bogus lawsuit filed by someone as a prank against either Manziel or Schacher — or both.
We've reached out for comment from Schacher and CNN/HLN to determine the authenticity of the complaints. As updated above, HLN confirms this was a hoax filed by someone other than Schacher.
View the document below, via Scribd:
[h/t Deadspin]
[Featured image via Shutterstock]
— —
>> Follow Andrew Kirell (@AndrewKirell) on Twitter
Have a tip we should know? tips@mediaite.com