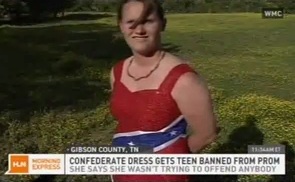 A Tennessee teen named Texanna Edwards was barred from attending her prom on Saturday for literally wrapping herself in the Confederate flag.  She was denied entry because her glittery Rebel-patterned dress was deemed "offensive and inappropriate" by school officials.
On Headline News' Morning Express With Robin Meade Thursday morning, anchor Robin Meade and meteorologist Bob Van Dillen had a little bit of fun at Edwards' expense, but not because of her Confederacy-celebrating attire.
Eighteen year-old Texanna Edwards told a reporter that wearing the dress "wasn't done to offend anybody. It was done for the sole fact that I wanted a Rebel flag dress because I thought it was cool."
However, school officials say that Edwards was warned about the dress well in advance:
School officials said a teacher warned Edwards about two months ago that the dress might not be acceptable. The teacher, who served as prom sponsor, expressed concern and suggested to Edwards in February that she should clear the idea with the principal, but Edwards did not do so, said Eddie Pruett, director of schools for the Gibson County Special School District.
After recapping the story on HLN, Robin Meade added that last year, Edwards attended the prom in a camouflage dress, showing a photo of the teen with her date, who wore jeans and a camouflage vest. Meteoroligist Bob Van Dillen cracked, "I see her date was real proud to take her, too," then, when the shot switched to him, said in a panic, "No. Don't use my face for this one!"
Someone off-camera asked "Did we show her flip-flops?"
"She had on flip-flops with the red dress," Meade said, explaining that this is a comfort trend, since the footwear normally can't be seen under prom dresses. In Edwards' case, though, the flip-flops were quite visible.
Meade said she wasn't "taking a stand" on the dress, but "I disagree with the flip-flops."
Is that really where we are now? You can't take a stand on a Confederate flag dress, but you can take one on flip-flops and camouflage evening wear (which begs the question: how could anyone tell)?
This is really pretty simple. I get that, in order to live in certain parts of this country, you have to either swallow that "Heritage Not Hate" garbage, or get in a fight every day. The North gets a little too self-congratulatory about ending slavery, anyway. It's like being the first guys at a stoning to decide their arms are tired, and the rocks are too heavy.
But this is America, and I also believe that people ought to be allowed freedom of expression to the greatest extent possible. Without question, that flag should not be flown on public lands, but if you, personally, want to be associated with it, and all that says about you, knock yourself out.
Maybe Meade's right about the flip-flops, though.
Here's the clip, from HLN:
Have a tip we should know? tips@mediaite.com