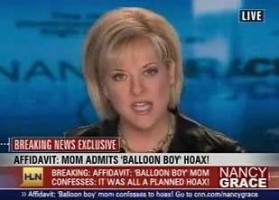 While Fox News is headed for its best ratings of all time, and CNN and MSNBC are seeing some of their worst ratings of 2009, where does that leave cable news network #4 – CNN sister network HLN?
In a very good place. HLN is also on pace for its best ratings ever, in total day and prime time, in total viewers and the A25-54 demographic. So what's working?
EVP of CNN Worldwide and HLN head Ken Jautz tells Mediaite the goal of the network is to provide a balance with CNN. "Our whole strategy is to create a line-up that's different from CNN," he said in an interview last week. "To differentiate, to point out that there's different audiences. From a group perspective you want to do that. You want to broaden your appeal to as many different people as possible. So the fact that HLN is particularly strong at the moment and doing well is a good thing from a group perspective."
While it may benefit CNN Worldwide, the uptick for HLN and severe down-tick for CNN has been made very clear in October. Nancy Grace's show at 8pmET had more demo viewers than any CNN program. Her 10pmET repeat beat Anderson Cooper's live show in the demo (and beat MSNBC's Keith Olbermann repeat as well). At 11 pmET, HLN's Showbiz Tonight topped MSNBC's Rachel Maddow repeat in the demo, as well as Cooper's repeat. Also, HLN's morning show hosted by Robin Meade was the #2 morning show in the demo, and enjoyed its best ratings of all time in the category during October.
Meanwhile, Joy Behar's show, which launched late last month, and has seen solid ratings since its premiere. "It's been going great," said Jautz. "This is my fifth show launch at HLN and anytime you launch a show you're disrupting what was there. So you expect it to take awhile to find its feet so to speak. But I think it came out of the box the quickest, or the strongest, of any of the show launches I've been involved in."
The show has benefited from buzzy interviews – with people from the entire political spectrum – and soon the show, and network, will benefit from a big marketing push.
>>> NEXT PAGE: See what's coming up for HLN.
Have a tip we should know? tips@mediaite.com