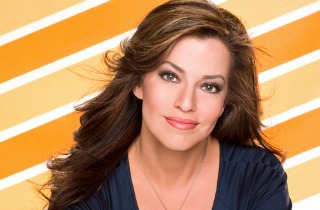 CNN President Jeff Zucker recently proclaimed: "There's nobody better in morning TV than Robin Meade." Turns out her talents extend from on-camera to the stage as well.
If you've tuned to HLN over the past week, you'll notice the 45-year-old Meade (45 apparently is the new 30) isn't in her usual anchor chair on Morning Express. That's because she's currently performing at the Sands Showroom at the Venetian right in the heart of the Vegas strip. It's all part of Meade taking up an invitation from the band Human Nature, who asked the Ashland University grad to sing with them for 11 Christmas-song-themed performances.
But is she any good? You be the judge. Here's what the Las Vegas Sun had to say after seeing her with the band on Tuesday night:
Who knew the pretty lady, a one-time Miss Ohio and at Headline News since 2001, was such a talented singer? She looks sensational in a colorful Christmas wardrobe, and after belting out several favorites in perfect pitch, I had to wonder if she'd ever swap the TelePrompTer for onstage music sheets.
"I'm so fortunate to be at a point in my life where I can pursue both of my passions: television and music," Meade told the Sun after the show. "I'm grateful I work for bosses who understand both sides of my personality in terms of news and music. Bottom line: I'd love to come back and be on the stage more, especially with Human Nature."
Meade returns to HLN on December 29th… if she doesn't decide to run off with the band permanently.
— —
>> Follow Joe Concha on Twitter @JoeConchaTV
This is an opinion piece. The views expressed in this article are those of just the author.