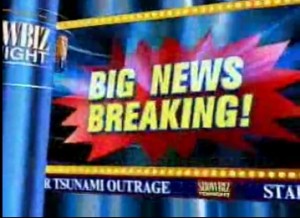 There's certainly no shortage of bad news this week what with the ongoing series of disasters Japan and its people find themselves contending with, and every major news network has been intently covering the earthquake, aftershocks, tsunami and problems at the Fukushima nuclear power plant.
CNN spin off network HLN, however, finds itself in a unique position: As news trickles out that the plant's nuclear reactors are possibly being abandoned due to imminent danger and the threat of a nuclear catastrophe looms on the horizon, how does its celebrity gossip and entertainment news show, Showbiz Tonight, tout its coverage of Japan-related news and, say, Selena Gomez's Justin Bieber dating drama without seeming out of touch or tone deaf?
The show ran news about Japan (or, rather, controversial celeb Tweets about the disaster) right alongside news about Gomez, Eva Longoria, Courtney Cox and other celebrities, all as "big breaking news." To make matters worse, it re-ran a teaser from its 5 p.m. show again at 11 p.m. – when other networks were busily reporting on whether or not the Japanese had to worry about imminent nuclear disaster. The use of a bright red "Breaking News" banner seemed a bit off when, during the very same time slot, news was coming out much heavier events. The choice also makes Showbiz Tonight seem more at odds with HLN's other, "newsier" programming.
Of course, we've found ourselves covering news about natural disasters, media pundits and adorable baby animal capers all on the same day. But we wouldn't call a baby koala falling from a tree a big or breaking story knowing that worries about radiation and explosions are currently capturing the world's attention.
So what's an outlet like Showbiz Tonight to do? Should they cover their celebrity stories differently? Should they steer clear of Japan-related news entirely? Should HLN refrain from airing the show during primetime, or does the network have a balance that works just fine as it is?
Check out the show's prime time coverage, via HLN, and weigh in:
Have a tip we should know? tips@mediaite.com