Hoboken Mayor Alleges That Chris Christie's Lt. Governor Extorted Her Over Sandy Funds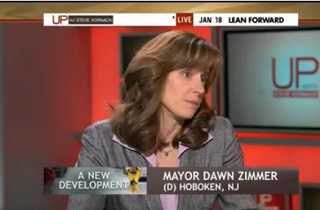 Last weekend, Hoboken Mayor Dawn Zimmer (D-NJ) told WNYC that the unfolding Bridgegate scandal made her wonder if Governor Chris Christie's administration had denied her city Hurricane Sandy relief funds as payback for her refusal to endorse Christie's reelection. On Saturday morning's Up with Steve Kornacki, Mayor Zimmer revealed that Christie Lt. Gov. Kim Guadagno explicitly connected Hoboken's Sandy relief to a different motive.
In the days following Hurricane Sandy, Hoboken was one of those places that made it into every network's video package of hard-hit areas, as thousands of people remained trapped by flood waters for days. Since then, Governor Christie waged, and won, a hard-fought battle to secure federal relief for the state, but in light of the Bridgegate revelations, Hoboken Mayor Dawn Zimmer wondered if her city was shortchanged when it came time to dole out those dollars simply because she wished to remain neutral in the gubernatorial election. Now, she says the motive was a redevelopment deal, and the payback scheme was much more explicit.
In his opening segment, Kornacki ran down a complicated history of area politics (read all about it here), but the nuts of the story are that the Christie administration was pushing hard for a development project that Mayor Zimmer and the Hoboken planning board had slowed down, and after almost all of the city's Hurricane Sandy relief requests were denied, Lt. Gov. Kim Guadagno told Mayor Zimmer that in order to get the Sandy relief funds flowing, she needed to move the development project along.
According to an entry in Zimmer's personal diary, Guadagno pulled her aside after a political event in Hoboken, "and says I need to move ahead with the Rockefeller project. The word is you're against it and you need to move it forward or we're not going to be able to help you. I know it's not right. These things should not be connected but they are. If you tell anyone I said that, I will deny it."
Zimmer also says that New Jersey Department of Community Affairs Commissioner Richard Constable told her, of the Rockefeller Group project and the Sandy relief, "If you move that forward, the money would start flowing to you."
Here's the portion of the segment regarding Mayor Zimmer's diary:
During their exclusive interview, Kornacki first read statements from Christie's office, and from Richard Constable. Christie spokesman Michael Drewniak, on behalf of Christie and Guadagno, responded "Mayor Zimmer has been effusive in her public praise of the Governor's Office and the assistance we've provided in terms of economic development and Sandy aid. What or who is driving her only now to say such outlandishly false things is anyone's guess."
Constable's statement read "I doubt that Mayor Zimmer would say such a thing, because that statement is categorically false."
Kornacki also displayed some of that effusive praise, from Zimmer's Twitter feed, and asked her how she'd respond to critics who ask "How can you believe her if she's saying those nice things then, and this terrible thing happened before?"
"Of course I'm thankful for every penny we receive for Hoboken, our city was completely devastated," Zimmer said. "I'm thankful for whatever we received. But the fact is that the Lieutenant Governor came to Hoboken, she pulled me aside in the parking lot, and she said, 'I know it's not right,I know these things should not be connected, but they are, and if you tell anyone, I'll deny it.' I mean, the bottom line is, it's not fair for the governor to hold Sandy funds hostage for the City of Hoboken because he wants me to give back to one private developer."
Kornacki also asked why she waited until now to reveal this. "I probably should have come forward then," Mayor Zimmer responded. "This is probably the hardest thing I've ever done, so I probably should have come forward. I literally feel like we — I have to act in the best interest of Hoboken and we're still at risk of not getting — there's another tranche of funding coming through, and we're not going to get it unless i move forward with the Rockefeller plan."
Mediaite contacted Mayor Zimmer's office on Monday to request documents related to Sandy relief, which they were then "compiling," and have yet to provide us. Mayor Zimmer's seriously damning accusations, personal diary notwithstanding, currently amount to her word against the Christie administration's. On Monday, Mediaite filed a FOIA request with the State of New Jersey for documents and emails related to Hoboken's Sandy relief aid, and any internal communications regarding Mayor Zimmer or the City of Hoboken in the period following the storm. That request is still pending.
Have a tip we should know? tips@mediaite.com