Hoboken Mayor Evades Sandy Funding Question Shortly After Alleged Extortion Threat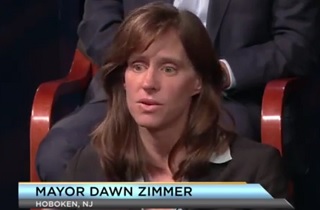 This weekend, Hoboken Mayor Dawn Zimmer (D-NJ) dropped the blockbuster allegation that New Jersey Lt. Governor Kim Guadagno and Department of Community Affairs Commissioner Richard Constable each made explicitly tied her city's Hurricane Sandy relief requests to a real estate development deal. Barely two hours after she says Constable made his overture, and while seated right next to him, Mayor Zimmer was asked how "optimistic" she was about getting the grants her city needed.
On Saturday, Mayor Zimmer told MSNBC's Steve Kornacki that the Christie administration had been pushing hard for a development project that Mayor Zimmer and the Hoboken planning board had slowed down, and after almost all of the city's Hurricane Sandy relief requests were denied, Lt. Gov. Kim Guadagno told Mayor Zimmer that in order to get the Sandy relief funds flowing, she needed to move the development project along.
According to an entry in Zimmer's personal diary, Guadagno pulled her aside after a political event in Hoboken, "and says I need to move ahead with the Rockefeller project. The word is you're against it and you need to move it forward or we're not going to be able to help you. I know it's not right. These things should not be connected but they are. If you tell anyone I said that, I will deny it."
Zimmer also says that New Jersey Department of Community Affairs Commissioner Richard Constable told her, of the Rockefeller Group project and the Sandy relief, "If you move that forward, the money would start flowing to you."
That message was delivered jut before the two-hour live broadcast of Superstorm Sandy: A Live Town Hall, on May 16. Mayor Zimmer spoke several times during the special, discussing specifically the hazard mitigation plans for which she had sought hundreds of millions in funding, but received only a few hundred thousand. While Mayor Zimmer had complaints about FEMA's policies, she never volunteered any information about how the state government was responding to her funding requests.
Toward the end of the program, however, NJ Today host Mike Schneider asked Mayor Zimmer directly, about grants for her city's plans. Barely two hours after Zimmer says Constable reinforced Guadagno's threat, with Constable sitting right next to her, Schneider asked Mayor Zimmer "You said 'if' and 'grants' and 'money,' are you optimistic that you can get all of that?"
Mayor Zimmer skirted the question about funding, responding "We've had a tremendous response on our Community Emergency Response team, we just completed a training program, expanding another training program, and we'll be out there educating the public on how they can be prepared to stay within their home. And as people come in to get permits, and rebuilding, we're advocating for them to build higher, build stronger."
"And I'm certainly down talking to everyone in Trenton," Zimmer continued, turning to Constable and adding, with a laugh, "I think they're tired of seeing me."
Here's the video, from NJTV (transcript here):
Have a tip we should know? tips@mediaite.com