Hoboken Mayor: If I'd Come Forward Sooner, 'We Would Really Be Cut Out of Sandy Funding'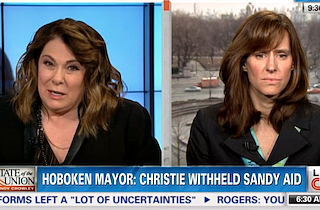 On State of the Union Sunday morning, host Candy Crowley asked Hoboken Mayor Dawn Zimmer—who yesterday told MSNBC's Steve Kornacki that New Jersey Governor Chris Christie's administration had withheld Sandy relief funds from the belegured town over a development dispute—why she chose this moment to come forward with her allegation.
"Back in May, when the Lieutenant Governor came and very directly said to me that these two things are connected, I didn't think anybody would believe me," Zimmer said. "Looking back, I probably should have come forward. But quite frankly, if I come forward and nobody believes me, I would have put Hoboken in an even worse position. My number one priority as mayor of Hoboken is to fight to make sure that we get as many Sandy funds as possible, and I was really concerned that if I came forward and no one believed me, that we would really be cut out of Sandy funding."
"But as I watched the coverage with Bridgegate, you do see parallels," Zimmer continued. "And I felt that I had an obligation to come forward, and as I look at the second tranche of funding come through, I'm concerned were going to be left out."
Crowley asked whether there was any truth to the Christie administration's rebuttal that the timing of her allegation was political, given Zimmer's praise of Christie after the alleged withholding of funds took place.
"The Christie administration's response is one of deflection," Zimmer said. "The major question is: did they connect Hoboken Sandy funding to the Rockefeller project? The fact is, that is what they did."
Watch the full clip below, via CNN:
[Image via screengrab]
——
>> Follow Evan McMurry (@evanmcmurry) on Twitter
Have a tip we should know? tips@mediaite.com