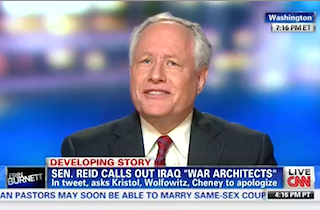 When Weekly Standard editor Bill Kristol appeared on CNN Thursday evening, Erin Burnett confronted him with a tweet sent out this week by Senate Majority Leader Harry Reid (D-NV). As Reid wrote in the tweet below, "The only thing I want to hear from Iraq war architects is an apology." Kristol informed the Democratic leader that he should not hold his breath.
The only thing I want to hear from Iraq war architects is an apology. pic.twitter.com/vPeGmOyP2W

— Senator Harry Reid (@SenatorReid) June 18, 2014
"Harry Reid's not going to get an insincere apology from me," Kristol said. "I'm not a politician. I'm not apologizing for something that I think was not wrong. I think going to war to remove Saddam [Hussein] was the right thing to do and necessary and just thing to do."
He said that unlike his critics he's not trying to "re-litigate the past" and instead wants to look forward to what should be done now. "This is a real crisis," he said. "If ISIS dominates a huge chunk of Iraq and Syria and establishes a terrorist state there, that is a crisis for the United States." Kristol even gave "credit" to President Barack Obama for "acknowledging that it's a serious problem that requires U.S. involvement to deal with."
Kristol challenged Reid to come on Burnett's show with him and have a real debate about the issues. "I'll sit here with you and Harry Reid and have a half-hour long debate," he said. "But for him to tweet out 'the only thing I want to hear from them is an apology?' Is that really an appropriate way to conduct yourself as a serious leader of democracy?"
At this point, Burnett's other guest Carl Bernstein chimed in, saying, "Apologies would be in order at this point for the neo-conservatives who banged the war drums and so disastrously."
"Oh, hogwash!" Kristol shot back.
Also this week, Reid issued an apology of sorts for his vote to authorize military action in Iraq back in 2002. "I'm sorry that I was misled, but I was, and it was a mistake for me to vote for that war," he said.
Watch video below, via CNN:
[Photo via screengrab]
— —
>> Follow Matt Wilstein (@TheMattWilstein) on Twitter
Have a tip we should know? tips@mediaite.com