Holder To NBC's Pete Williams: I Have 'No Intention' Of Stepping Down As Attorney General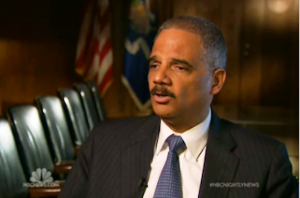 NBC News' Pete Williams sat down for an exclusive interview with Attorney General Eric Holder today. The appearance marked the first time Holder has engaged in a one-on-one discussion with a member of the press since he has come under fire for investigating journalists at the AP and Fox News. On the balance between the freedom of the press and national security, Holder told Williams, "I'm a little concerned that things have gotten a little out of whack. I think we can do a better job than we have."
Speaking specifically to the case of Fox's James Rosen, Holder explained that in order to get a warrant to search the reporter's electronic records, he had to be labeled a "co-conspirator." But that doesn't mean Holder is "comfortable" with that terminology and said he plans to change the policy.
"I don't like that," he said. "It means that me, as a government official who has great respect for the press, is in essence saying that a reporter doing his or her job, and doing that very important job, is somehow branded a criminal."
Williams asked the attorney general when he plans to step aside and he responded, "there are things I want to do, things I want to get done that i have discussed with the president. Once I have finished that, I will sit down with him and we'll determine when it is time to make a transition to a new attorney general."
"But to be clear, you're not stepping down now?" Williams asked again.
"No, I have no intention of doing so now," Holder replied.
Watch video below, via NBC:
—
>> Follow Matt Wilstein (@TheMattWilstein) on Twitter
Have a tip we should know? [email protected]