Holder Vows To Senate: My DOJ 'Will Not Prosecute Any Reporter For Doing His Or Her Job'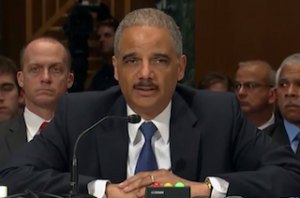 He can't speak for future attorneys general, but Eric Holder did say definitively before a Senate panel today that as long as he is heading up the Justice Department, he "will not prosecute any reporter for doing his or her job." Holder's comments came during a prepared opening statement at a hearing before the Senate Appropriations subcommittee on Commerce.
Addressing his department's attempts to "balance" national security threats with the "freedom of the press," Holder explained that he is in the process of redefining the guidelines "governing investigations that involve reporters."
"As part of that conversation, let me make at least two things clear," Holder said.
"First, the department's goal in investigating leak cases is to identify and prosecute government officials who jeopardize national security by violating their oaths, not to target members of the press or to discourage them from carrying out their vital work.

Second, the department has not prosecuted, and as long as I have the privilege of serving as the attorney general of the United States, will not prosecute any reporter for doing his or her job."
Holder put strong emphasis on the word "government," making it abundantly clear that it is those leakers, and not the reporters they leak to, who are in danger of prosecution. While he said he does not intend to "discourage" reporters from doing their work, those comments are unlikely to eliminate the "chilling effect" on sources that many in the media have pointed to since this controversy began.
As for Holder's tenure in his current role, in an exclusive interview last night with NBC News' Pete Williams, Holder said he has "no intention" of stepping down.
Watch video below, via CNN:
—
>> Follow Matt Wilstein (@TheMattWilstein) on Twitter
Have a tip we should know? [email protected]