Holder vs. The Press: MSNBC Guests Battle Over How This 'Relationship Ought To Function'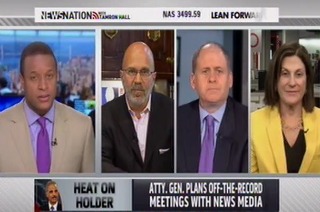 Opinions diverged greatly during a panel discussion on MSNBC regarding a proposed off the record meeting between Attorney General Eric Holder and members of the media. Some guests said that the majority of media outlets boycotting the meeting were missing an opportunity to clear up misunderstandings while others said that the public, not just the media, has a right to know why the Department of Justice targeted journalists as they would government whistleblowers.

"I think in order for there to be a meeting where they can hash out a way forward, it would have to be the sort of meeting where sausage is made and you can't have the transparency that we would demand in another circumstance," said SiriusXM Radio host Michael Smerconish. "I don't know what the alternative might be, I guess is what I'm saying."
"I think a lot of folks would say the alternative might be a meeting that's on the record," MSNBC anchor Craig Melvin submitted.
RELATED: Former Clinton Aide Lashes Holder: 'Politically Brain-Dead' To Label Fox Reporter 'Co-Conspirator'
Smerconish said that a meeting where the object is to "prescribe rules and solicit input for how this relationship ought to function in the future" would be impractical if the media was prepared to report on that information.
Progressive columnist Jonathan Alter was on the fence. He said that, given the circumstances, he may not attend an off the record meeting with Holder, but he would not rule it out entirely.
"It seems like there is a sequencing issue here," Alter said. He added that the media should get answers to questions about targeting journalists on the record. After that, a meeting designed to define the rules of reporting and talking to government leakers could occur.
"I don't think there is any reason why this should be off the record," declared POLITICO reporter Lois Romano definitively. "It's really ludicrous to think that it's really going to be off the record with so many people attending."
"Why not just cut to the chase and be transparent?" Romano asked.
Watch the clip below via MSNBC:
> >Follow Noah Rothman (@NoahCRothman) on Twitter
Have a tip we should know? tips@mediaite.com