Holiday Safety Tip: In The Event A Loved One Goes Missing, It Really Helps To Have A Pole Dancing Video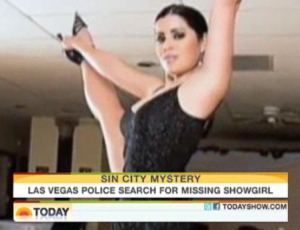 With the holiday season bringing families together to enjoy the proverbial holiday cheer, it's also a good time to think of ways you can keep your family safe in the event something awful should happen.
So, here's a tip for 2011 that you might not have considered: make sure you've got pole-dancing videos of each of your loved ones ready, just in case.
Sexy photos–and especially video–it's like catnip: news producers simply can't help themselves.
What am I talking about? Well, according to the National Center for Missing Adults, about 2,300 Americans go missing every year. That's a lot of families desperate to get media attention–which Nancy Grace proved this year can make the difference in finding your loved one alive, or never seeing them again.
Most of those 2,300 families will never get a shot at a television appeal–or even a quick shot of a loved one's picture on a local newscast. Just too many people missing. So how do you cut through all that and get reporters to line up trying to book you? Well, that's where that pole dancing video comes in. When you call the cable news networks and TV stations, say this: "my loved one is missing, I'd really appreciate any help you can give us in getting the word out."
Right about here, the person on the phone will be moving quickly to hang up on you. That's when you say this: "she's a dancer–I've got a pole dancing video I can show you, would that help?" You're on the news within the hour. Trust me.
Walk into your local television station with a nice family photo and say, "my loved one is missing, could you put it on the news?" and you'll get a blank stare and a suggestion to skip over to the local police precinct. They'll help you there, they'll say. We don't cover missing persons unless the police ask for our assistance. Good luck!
But have your loved one be a dancer/stripper/showgirl–and have the video to prove it–and you don't even have to go to a local station: every station in the country–even the U.K., you name it! They will ALL want the story! Can you be in New York to sit down with Matt and Meredith on TODAY tomorrow morning? Your tickets will be waiting for you at the airport. And hey–don't forget that video, okay?
When Vegas showgirl Debbie Flores Narvaez vanished, WMAR-TV in Baltimore led their 11 p.m. newscast with it, saying Narvaez "moved from our area to Las Vegas two years ago."
Um, try doing that with your missing loved one who's a convenience store clerk. Um, yeah, well, she lived in your city a few years back and all, thought maybe you could mention it on the news? Hello? Hello?
Go over to your computer and Google "Missing Vegas Showgirl" and see how many hits you get (I got 267,000), and note how many of them are video clips from news networks and television stations. They can't get enough. Your missing daughter? Meh. Missing showgirl? Yay!
Now a few caveats: for your own sake, it'll also help you not to have a middle name. Cable networks gravitate toward potential suspects with middle names, like Jason "Blu" Griffith, who's the "last person known to have seen" the Vegas showgirl alive. Why his middle name matters is not clear, but in other cases–like Jeffrey Scott Easley, the man who allegedly abducted that 12 year old and took her across country and into a week's worth of wall-to-wall coverage on Nancy Grace–middle names seem to imply guilt.
And, sadly, be advised that there appears to be some kind of understood level of required attractiveness. Simply putting your loved ones on the pole for a video won't necessarily work. They've got to have a journalistically minimal level of hotness to make this work.
So maybe get your loved ones working out in the New Year and shoot the video in the Spring. And in the meantime, keep an eye on them.
Have a tip we should know? tips@mediaite.com