'Hollywood Left Boosterism': O'Reilly Takes On Michelle Obama's Oscar 'Propaganda'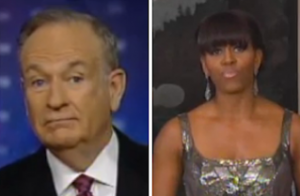 Bill O'Reilly played the clip of First Lady Michelle Obama's surprise Oscar appearance on his show Monday night and began to lay out his case for the "far left nuts that are monitoring this segment." Why did this first lady get such a coveted spot in front of an estimated one billion people worldwide, when the same honor was never given to Nancy Reagan, Barbara Bush or Laura Bush?
O'Reilly told his guest, Washington Post columnist Sally Quinn, that the move "smacked of Hollywood left boosterism" and a "pure propaganda play to make them glamorous."
Quinn responded that Republicans "probably would have done it before if someone had thought of it," calling it a "brilliant idea." She went on to make a curious argument about the image that Michelle Obama, a "black woman" must have had across the world to people in "caves" and "huts" and "jungles" who "even if that hate America, they love American movies" and would therefore embrace her as an ambassador.
O'Reilly did not hesitate to agree that the first lady is a "positive" image for America, "particularly in the third world." But he fundamentally disagreed that any Republican first lady would have gotten the chance to present at the Oscars, saying that it only happened because the all-powerful Harvey Weinstein decreed it. O'Reilly's under no illusions that Hollywood isn't run by liberals, but he said it's his job to call out "propaganda" when he sees it.
Just as CNN couldn't quite decide whether Michelle Obama is "overexposed" earlier this afternoon, O'Reilly and Quinn seemed to have trouble wrapping their heads around why and how the first lady is so popular with the majority of America. Perhaps there's no larger political conspiracy afoot and the Oscars just wanted one more buzz-inducing social media moment before the end of the show.
Watch video below, via Fox News:
—
>> Follow Matt Wilstein (@TheMattWilstein) on Twitter
Have a tip we should know? tips@mediaite.com