Holy Snit: Joe Scarborough Compares Dzhokhar Tsarnaev Rolling Stone Cover To The Koran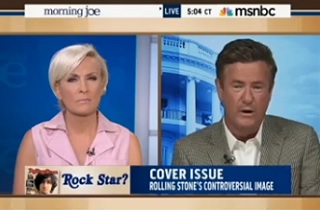 Rolling Stone magazine is weathering day two of the firestorm surrounding its decision to feature what many are calling a "rock star" photo of Boston Marathon bomber Dzhokhar Tsarnaev on the cover. Reaction to the cover has been vocal and, at least on the cable news landscape, universally negative. Several retailers have decided not to sell the issue, but the magazine's editors have come out in defense of the cover.
On Thursday morning's Morning Joe, host Joe Scarborough weighed in on the controversy by comparing the effort to examine Tsarnaev with the increase in sales of the Koran following the September 11, 2001 terrorist attacks, and explained "We were trying to figure out why they hated us, and we ended up realizing they hated us because we were evil."
"You know, I think, like most Americans, I wish that people that committed these heinous acts never would be written about, never would see their pictures, would never be profiled or elevated at all, that they would remain basically locked away," Scarborough said, but added "We don't live in Mr. Snowden's Russia. We live in the United States of America."
"When horrible things happen to us — after 9/11 everybody went out and bought the Koran," he continued. "It was the top selling book in America for a month or so, because we examine. We were trying to figure out why they hated us, and we ended up realizing they hated us because we were evil."
He went on to discuss the contrasting "look" of evil. "What is so jarring about this cover is that this is a kid. It is a good looking kid, a popular kid that looks like a lot of the readers of Rolling Stone," he said. "The enemy now is from within. The enemy looks like our next door neighbor."
Co-host Mika Brzezinski agreed that "It is interesting that his looks connect with the fabric of American society."
Scarborough also allowed that people have every right to be offended, and not to sell the magazine, but that "If you have read Rolling Stone for more than a week or so you are not shocked by this."
To that point, the loud condemnation and controversy surrounding this issue might not end up hurting the magazine, which is getting huge amounts of free publicity, and which could also wind up being hoarded by collectors who see the potential for scarcity that the retailer bans promise. People forget that, when we were teenagers, having something banned by K-Mart wasn't exactly the kiss of death. If nothing else, Rolling Stone has managed to become subversive again.
As for the Koran, Scarborough is correct, there was an increase in sales after 9/11, although the "search for evil" selling point is debatable:
Sales are up five times the normal amount for the $9.95 Penguin Classics paperback of the Koran, says Maureen Donnelly of Penguin. The publisher printed 20,000 more copies since the Sept. 11 terrorist attacks on the World Trade Center and the Pentagon.
For the second straight week, Penguin's English translation is on the USA TODAY Best-Selling Books list, ranked at 188. (Also in circulation: Islam: A Short History by Karen Armstrong at 231.)
The Koran is the holy book for 1.2 billion Muslims, who believe in Islam, the world's second-largest religion. And it is a mystery to many Americans. "We are kind of admitting most Americans, however high or low, have no idea what this religion is all about," says John L.Esposito, director of the Center for Muslim-Christian Understanding at Georgetown University and author of 25 books on Islam.
The subtext of the Joe/Mika exchange about the "look" of the Boston bomber, and its connection "with the fabric of American society" is also interesting, because it illustrates the narrow way American popular culture defines that look, and the judgments it makes because of it.
Have a tip we should know? tips@mediaite.com