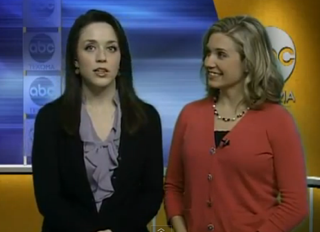 It happens at all levels of journalism, to people on television everywhere– getting caught talking about something off-camera without knowing you're actually on air. Joining the ranks of greats such as Bob Beckel is KTEN Texoma (that's Texas and Oklahoma to you!) reporter Erin Conrad, who griped to her partner that she really needed a tan while the cameras rolled.

RELATED: Bob Beckel Screams 'F**k' Live On Hannity, Refuses To Believe He Was On Air
There's not much to explain in the clip, because it's all in Conrad's look of horror: after pouting and noting that she is "so pale," she is told she is actually on air, pouting about being pale. Her expression genuinely afraid, she begins to give a weather report without a hitch about the snowstorms near Seattle. It's hilarious and unscripted and a reminder that we've all had one of those days.
The clip via ABC Texoma below:

[h/t]
Have a tip we should know? tips@mediaite.com