CNN Anchor Hosting New Border Patrol Series on Discovery Network is Also Liberal Immigration Activist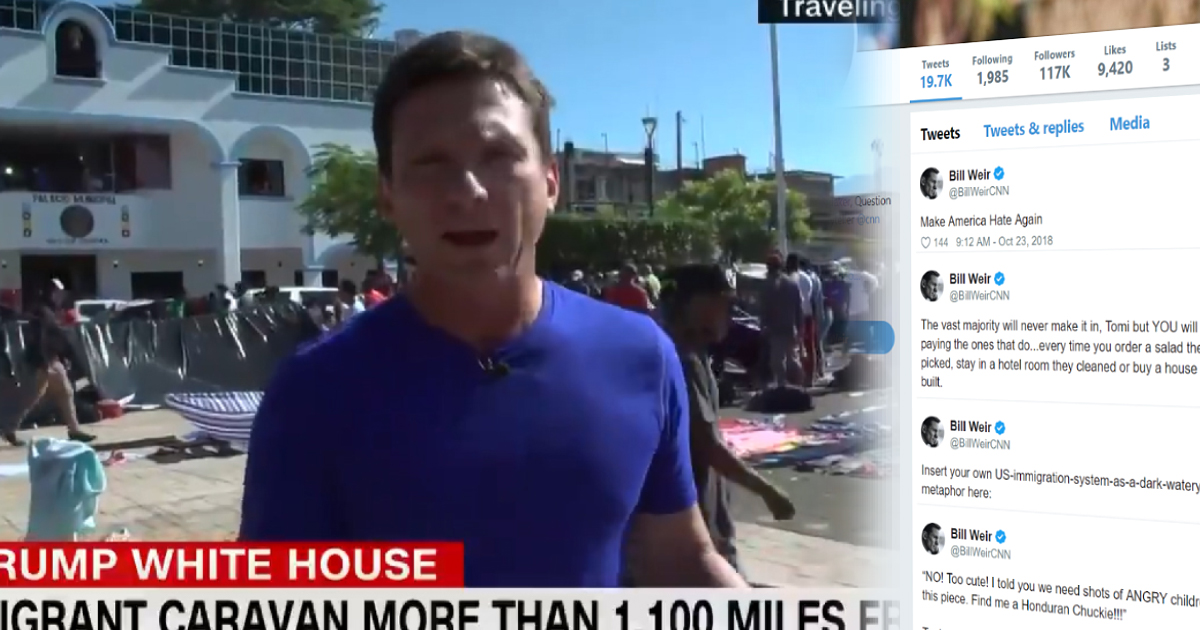 CNN's Bill Weir has been tapped by the Discovery Channel as host of a new live, reality series featuring border patrol agents, their families, the job itself, and the immigration issues around it. What makes him a bizarre choice is that he's also an activist social media warrior on those same topics, fighting tooth and nail with anyone who supports border enforcement or opposes illegal immigration.
Border Live will "document the work of law enforcement on the U.S.-Mexico border as well as the real lives, real moments and real stories of those that live and work along its remote stretches," according to the press release on Friday. What the press release does not say is anything about how the new host — who will air his portion from New York City — feels about the "lives, real moments, and real stories" of those agents, or their work.
His social media does, however. Here is a sampling.
The vast majority will never make it in, Tomi but YOU will be paying the ones that do…every time you order a salad they picked, stay in a hotel room they cleaned or buy a house they built. https://t.co/87phTYRHVC

— Bill Weir (@BillWeirCNN) October 23, 2018
Here's my @newday piece on @Pontifex flying Muslim refugees to Vatican City, modeling Christ by "welcoming the stranger" in the face of so much anti-immigrant rage. https://t.co/cjHyDNvT08

— Bill Weir (@BillWeirCNN) March 8, 2018
Prominent Republican Shocks Own Party, Calls for "Open Border" with Mexico https://t.co/Lrk0yfjpr9

— Bill Weir (@BillWeirCNN) November 5, 2018
I am on the southern border of Mexico just as the first #caravan wave is set to cross up from Guatemala pic.twitter.com/rCLS1fhcr5

— Bill Weir (@BillWeirCNN) October 19, 2018
Which happens to be a great argument for immigration REFORM! Maybe a guest worker program to let these folks pick your Chardonnay, make a few bucks and then go home…which will never happen as long as you keep characterizing them as Non White Walkers https://t.co/wvYby61rbI

— Bill Weir (@BillWeirCNN) October 23, 2018
Make America Hate Again pic.twitter.com/EfZL3777a8

— Bill Weir (@BillWeirCNN) October 23, 2018
In '92 the average Border Patrol agent nabbed around one illegal migrant per day or 350/year.

Today they average two per month. 24/year

Soldiers are prohibited by law from active law enforcement. So they will…give helicopter rides to BPS? Link arms and stare at Mexico? https://t.co/CmrR8QVr7D

— Bill Weir (@BillWeirCNN) October 30, 2018
"NO! Too cute! I told you we need shots of ANGRY children for this piece. Find me a Honduran Chuckie!!!"

Tucker Carlson's Photo Editor https://t.co/hSyLs6cO8N

— Bill Weir (@BillWeirCNN) October 23, 2018
What would you do to chase The American Dream?
Would you jump off a bridge?

Here are some of my pics (and one incredible story) from this day on Mexico's southern border… pic.twitter.com/xyaMHb2nZj

— Bill Weir (@BillWeirCNN) October 21, 2018
Insert your own US-immigration-system-as-a-dark-watery-cave metaphor here: https://t.co/Ne9060Xp23

— Bill Weir (@BillWeirCNN) July 10, 2018
Weir's contempt for the GOP's immigration policies, not to mention the border security laws as they currently exist, and especially toward Trump, is palpable. But the real giveaway is in how he describes why he took the job.
Still loving my gig covering breaking news, chasing great stories and making special hours for @CNN so when @Discovery called, the first thought was 'thanks kindly, but no.'
But then they described an earnest search for truth and context on the border and we all said yes. https://t.co/DRles8SbfB

— Bill Weir (@BillWeirCNN) November 2, 2018
When he promises "context," it seems clear what he really means is moralizing and spin. That hardly requires mention, though, since he does it within that very tweet, which is practically bleeding with self-reverential, pious satisfaction.
Weir has been openly and vocally opinionated on the topic for a long time, going back to his days with ABC covering Arizona's immigration laws during the Obama administration. On Twitter, above and in other tweets, he lobbies for changes to immigration policy, including making crossing the border back and forth easier, not harder, and allowing more of it.
For a documentary news show about the border, one might expect a more dispassionate and less one-sided host. Weir has every right to express his preferred moral vision and personal interpretation of what is good and what is evil regarding immigration. But for a show that is about, in part, the people enforcing the border laws for which he has such hostility, it's going to be a tough sell to say the least, to my even remotely conservative brethren.
But I fear like so much of media today, it appears Discovery finds his avowed, open leftward slant to be a feature, not a bug.
—
Follow Caleb Howe (@CalebHowe) on Twitter
This is an opinion piece. The views expressed in this article are those of just the author.
Caleb Howe - Contributing Editor