Hostage Situation: Journalists Held By Pro-Gaddafi Forces In Tripoli Hotel (Update)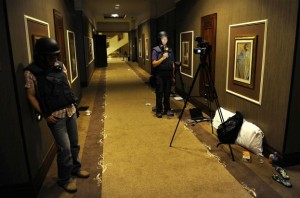 "With an 18,000-square-foot spa, helicopter service upon request and a self-described 'culture of service perfection,'" does not, to us, sound much like jail. However, as the battle for Libya falls towards the rebels favor, it's hard to blame the cadre of journalists stuck inside Tripoli's premier hotel, the Rixos — now one of the last Gadhafi strongholds — for feeling like prisoners. But as the days draw out, it must be asked, are they being held hostage? Update – they have been freed from captivity.
The New York Times reported yesterday that the hotel has served as a hub for Libyan government officials and foreign journalists throughout the past six months. And while Gadhafi forces once acted as gracious hosts to properly credentialed journalists, the Times reminds that they kept a heavy hand, as reporters "were kept under a close watch. Trips into Tripoli conflict zones were led by chaperones, and no journalists were allowed out without one." The other, less lavish option for journalists working in Libya was to embed with the rebels, a risk that proved worthwhile for reporters like Sky's Alex Crawford.
Armed government forces have kept the 35 foreign journalists who where guests at Tripoli's luxurious looking Rixos holed up inside since the weekend, and as CNN's Matthew Chance expressed to Anderson Cooper last night and then again on Twitter this morning, there is growing concern as to why. As the rest of Tripoli and much of Libya falls into rebel control, why are pro-Gadhafi forces holding tight on the Rixos? Are the journalists being held as future hostages?
Reporters Without Borders suggests as much in a statement today. "They are held hostage on the hotel's first floor, the prisoners of a dying regime that refuses to lay down its arms," they write, pointing out increasingly trying conditions as power is cut and food and water run low. "Their situation is very worrying," they conclude, urging the National Transitional Council, which has been recognized by many as Libya's provisional government, to "do everything in its power to allow journalists to cover the fighting freely and safely."
Chance reported via twitter this morning that several journalists had tried to enter the Rixos from the outside, but were kicked out at gunpoint. There have also been reports of gunshots in the areas around the hotel. Has the battle for the Rixos begun? Are the journalists being held as pawns? Saved until the end days to be traded by desperate Gadhafi forces?
While they wait, those stuck inside have done their part to broadcast their travails to the world.
A Chinese journalist from CCTV led a video tour of the hotel, paying special attention to windows blocked with mattresses and waning water supplies.
CNN's Matthew Chance has been tweeting the journalists time inside the hotel, marking both the highs ("We raided the hotel larder and got tons of cheese!") and lows ("We are plunged back into darkness and discomfort"), as well as the growing desperation: "We'd like to leave to a safer location and negotiate an exit, but we are being prevented from doing so."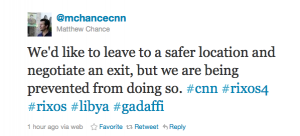 With about half of the news coming from journalists in Tripoli coming from inside the embattled Rixos, this series of photos from Reuters Paul Hackett (via The Atlantic Wire) from inside the luxury hotel-cum-prison make for an interesting peephole into the weird corner of Libya they are stuck in, and makes a case for a prison-like atmosphere, albeit generously chandeliered. The photos show the journalists, generally decked in bullet-proof vests and helmets, on cell phones and conducting interviews like reporters wont do, watching a movie together (r&r is important, even in war!), and, most frighteningly, dodging bullets in front of a marble elevator bank.
Have a tip we should know? tips@mediaite.com