Hotel Owner: Brian Williams Definitely Didn't See Dead Katrina Bodies, Wasn't Attacked by Gangs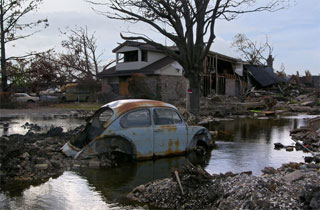 More details about Brian Williams's dramatic misremembering of Katrina have emerged, with the manager of the hotel he stayed at directly contradicting his narrative of seeing dead bodies float in the street, being attacked by gangs in his hotel, and contracting dysentery.
"I can tell you that at no time did any of my people report any sightings of any bodies," Myra DeGersdorff, then the manager of the French Quarter Ritz-Carlton, told the Washington Post. "He may have simply misremembered. But I can tell you no one broke out in the hotel with dysentery."
DeGersdoff, who currently lives in Scottsdale, AZ, was in fact so well-prepared for Katrina that she won an award from the luxury hotel's corporate headquarters:
She enlisted a number of local cops to stay in a half-dozen of the hotel's 452 rooms, and at any given moment there were at least "six or seven" officers on hand. She dispatched a team of "strong, tall" employees to barricade the exits with king-sized mattresses, and to "make sure those doors stayed locked," she recalled in a telephone interview with The Washington Post. And she had set up an impromptu "MASH unit," stocked with medicine from a nearby Walgreens and manned by more than a dozen doctors.

The preparation paid off. Though the hotel was packed, everyone there made it through one of the worst natural disasters in U.S. history in one piece.
A few looters attempted to break into the building, but were chased off by security guards, and DeGersdoff says that while it's possible Williams saw a body, he probably didn't see one in the French Quarter, which only got "a few inches of flooding."
"I'm not going to judge him, because it was such an unpleasant week and there were times to be concerned," she offered. "And when there is that kind of concern, you can misremember."
The French Quarter itself was spared from much of the damage of Katrina, with few shops and museums looted and some minor flood damage. The Ritz-Carlton itself, however, is located in the lower areas of the Quarter and was mere blocks away from streets where floating corpses were found, and was forced to undergo a $100 million renovation after the storm. Different guests during that period have conflicting memories about exactly how high the water was: some told the New Orleans Advocate that they saw nearly six feet of water, others reported a few inches.
(Let's be clear about one thing, though: Brian Williams reported on Katrina, miles away from the actual devastation of the hurricane, out of a Ritz-Carlton.)
[The Washington Post]
[Image via Pattie Steib / Shutterstock.com]
— —
>> Follow Tina Nguyen (@Tina_Nguyen) on Twitter
Have a tip we should know? tips@mediaite.com