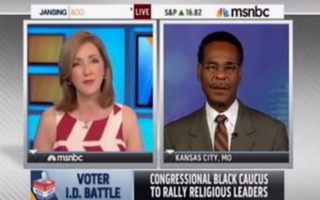 Appearing on MSNBC's Jansing & Co., Congressional Black Caucus Chairman Rep. Emanuel Cleaver (D-MO) addressed controversial voter identification laws that are being enacted with increasing frequency. Cleaver characterized this effort as a response to "the 17 percent increase in African American votes." Cleaver discussed a study that recently showed up to 18 percent of senior citizens had no state-issued photo I.D., and said that in the states where that identification costs up to $20, it amounts to a "poll tax on seniors."

RELATED: Megyn Kelly Asks Representative Of Pro-Voter ID Group About Boycotts
Cleaver talked about an upcoming conference of ministers where administrators with the IRS, Attorney General Eric Holder and lawyers with the ACLU will be "giving ministers guidance on what they can and cannot do."
"Also, we're going to talk to them about some of the draconian laws that have cropped up around the country as a result of the 17 percent increase in African American votes," said Cleaver in reference to voter identification laws.
"Give us an example of the kind of law that is of great concern to you," asked host Chris Jansing.
Cleaver said that a recent study showed that 18 percent of senior citizens do not have government issued identification.
"So, in many states what is required is government I.D. with a photograph," said Cleaver. "So, people will have to go out and pay money to get government issued I.D. In some cases it costs as much as $20 – now that's not a lot of money, except that it essentially becomes a poll tax for seniors."
Cleaver said that in Texas, for example, voters can vote with a gun license but not a student I.D. He cited that as an example of a discriminatory voting identification law.
Jansing asked Cleaver what he thought of Massachusetts Gov. Mitt Romney's efforts to court black voters by speaking in inner city Philadelphia last week. Cleaver said he thought that was a good sign, but "it's not going to work."
"What black voters is not a visit from a presidential candidate but a change in policies," said Cleaver. "I don't think Gov. Romney is going to change policies that would be attractive to African Americans or Latinos, for that matter."
Watch this segment below via MSNBC:
Have a tip we should know? tips@mediaite.com