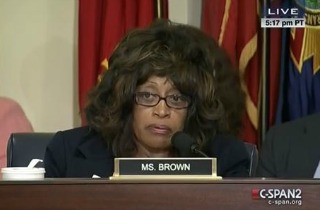 Rep. Corinne Brown (D-FL) probably did not set out to substantiate virtually every Republican talking point regarding how Democrats and the Obama administration has handled, or mishandled, the scandal surrounding the Department of Veterans Affairs on Wednesday. Nevertheless, that was the result of her spirited attempt to defend President Barack Obama at a House Veterans Affairs Committee Hearing.
Invoking images of the central Florida congresswoman hovering high above her district in an SR-71 Blackbird, Rep. Brown assured the hearing's attendees that she has performed her "reconnaissance" on the VA. Following the successful completion of that mission, Brown reported to her colleagues that the Veterans Affairs facilities in Florida were "doing fine."
"I can truly say, I went and talked to various VA groups in Florida, and not one single complaint," she added, "because we are doing our job."
Well, Brown's recon mission seems to have missed a few trouble spots. The VA is not "doing fine" in Florida, or even for Rep. Brown's constituents. According to a May 15 report in the Ocala Star-Banner, the system-wide waiting list fraud extends its reach even to the largest city in Brown's district:
Three mental health administrators at the Malcom Randall VA Medical Center in Gainesville have been placed on administrative leave after U.S. Department of Veterans Affairs officials found a "secret" waiting list of more than 200 patients, a local union president said Thursday.
Perhaps Brown's "reconnaissance" targets were camouflaged so as to be unrecognizable from her 70,000 foot vantage point. These are vets she's dealing with, after all.
Ill-advisedly, the congresswoman went further in her inadvertent indictment of an administration which promised in 2008 to "make the VA a leader of national health care reform so that veterans get the best care possible."
"Yes, we do have money for the veterans," Brown continued. "But, for years it was just a talk."
"But under this president, and when we had a Democratic House and a Democratic Senate, we got the largest VA increase in the budget in the history of the United States," she went on, perhaps ignoring her Democratic colleague's frantic throat slashing motions. "So, we do have the money."
In less than two minutes, Brown confirmed two key Republican themes. First, that this administration has failed to deliver on its campaign promises; that the president and his party are detached, aloof, and deluded; that they cannot address this abominable scandal because they largely refuse to acknowledge it exists. And second, that a lack of funding for the federal government's Leviathan social bureaucracies is not the reason why they disappoint so often and so completely. Those bureaucratic monsters fail because their unwieldy design and the scope of their mission preclude the possibility of success.
Perhaps that is why the Obama administration seems to be paralyzed by this scandal. When the horrific news that a system of fraudulent wait lists were being maintained by VA administrators exploded this month, the White House did nothing. Cautioning that a thorough and independent investigation into the allegations was required, the administration waited. Now, with an investigation of one facility complete and the findings indefensible, the White House still refuses to act. Even amid a flood of vulnerable Democrats demanding that VA Sec. Eric Shinseki be jettisoned, even as a gesture toward the significance of the scandal engulfing the VA, the White House persists in their stubborn recalcitrance.
Maybe getting rid of Shinseki would be, as the White House maintains, a fatal disruption to a system already in near collapse. Or maybe it would simply be the acknowledgement of failure, not merely of their own failure but of the central premise of liberalism: that government can do big things and do them well.
The VA scandal breathes new vigor into the Republican argument that the public sector cannot provide quality or timely health care, no matter how much wealth is confiscated in order to provide that service. Rep. Brown confirmed that much. All that is left is for the White House to acknowledge that reality, accept the blow to the liberal shibboleth that big government is good government, and get to work helping vets to get the care they need.
[h/t HotAir]
[Image via screengrab]
— —
>> Follow Noah Rothman (@NoahCRothman) on Twitter
Have a tip we should know? tips@mediaite.com