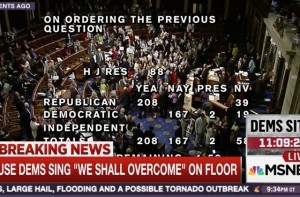 After a day of protesting legislative inaction on gun control, it seems that the Democratic members of the House of Representatives are calling it quits with their sit-in.
Democratic leaders took over the House chamber yesterday in disgust that the Senate voted down four new gun bills proposed in response to the Orlando Shooting. Their sit-in persisted despite losing CSPAN's camera feed and coming under fire by their conservative colleagues, but CNN reports that a senior aide to the participating members says it will soon be over.
Just in: Democrats headed to House floor to end sit-in over gun control vote – senior leadership aide tells @mkraju #orlando

— Jim Sciutto (@jimsciutto) June 23, 2016
Manu Raju told Ashleigh Banfield that the House Democrats believed that they made their point clear and will conclude their demonstration shortly. The protest has been held up by calls for supplies among the "skeleton crews" working on behalf of the participants last night, but seems the participants will soon be heading back to their districts as Congress adjourns for recess.
Raju did note however there will soon be a "procedural vote" on a compromise gun bill that will soon be brought before the Senate.
Rep. John Lewis was one of those at the forefront of the protest, and he gave a speech saying that the struggle would continue when they return in July. Lewis also threw in a reference to Dr. Martin Luther King Jr. as he compared the protest to sit-ins he participated in during the Civil Rights Movement.
Watch above, via CNN.
[Image via screengrab]
— —
>> Follow Ken Meyer (@KenMeyer91) on Twitter
Have a tip we should know? tips@mediaite.com