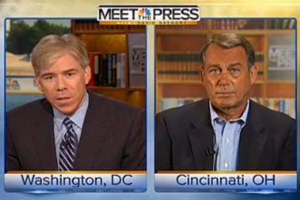 The evolution of the illegal immigration debate has led to public reconsideration of the 14th Amendment, one of the three post-Civil War amendments meant to shut down loopholes allowing Southerners to own slaves. Republican Sen. Lindsey Graham has led the march to remove the provision that makes anyone born in the US automatically a citizen, and today on Meet the Press, House Minority Leader John Boehner said he thought the repeal was "worth considering."
Telling host David Gregory that he did not have a concrete stance on the issue because "I'm not the expert," the Republican Congressional leader did note that he found the need for a solution to the illegal immigration problem urgent, and disincentivizing illegal immigration by making the American-born children of illegal immigrants ineligible for citizenship was a potential solution:
"There is a problem—to provide an incentive for illegal immigrants to come here so that their children can be us citizens does in fact draw more people to our country. I do think that it's time for us to secure our borders and enforce our law, and to allow this conversation on the 14th Amendment to continue."
Gregory pushed him on this point, implying his answer did not put him in any one camp solidly, and he replied that the repeal is "worth considering." In a debate in which it is so difficult to have a stance that no one will find offensive– where many on the left have a hard time understanding why "constitutional conservatives" would want to amend the Constitution and just as many on the right can't fathom why the federal government has not been able to stop the influx of illegal aliens, "we should talk about it" is as close to a neutral opinion a high-ranking Republican can have.
The clip via NBC's Meet the Press below:

Have a tip we should know? tips@mediaite.com