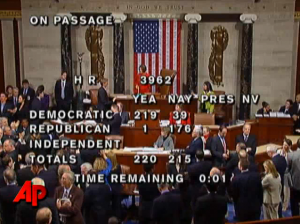 At 11:15 pm last night, the House health care reform bill passed by a vote of 220-215 to elated cheers from the Democrats. There were 39 Democratic "Nay" votes, and one Republican "Yea," Rep. Joseph Cao (R-La). The Senate still has to pass its version of the bill, but for now, this is a moment of celebration for Democrats and proponents of health care reform.
Huffington Post's Ryan Grim has a detailed description of the scene on the House floor last night, including this bit on reaction to Cao's defection:
After several minutes, Cao cast a yes vote from his seat, making the bill bipartisan. Reps. Jim Oberstar (D-Minn.) and Mike Honda (D-Calif.) waded into the Republican side of the aisle to get to Cao, rub his shoulders and slap him on the back.

Cantor stormed out as the Democrats applauded their defector.
The House bill includes a strong public health insurance option, a measure with overwhelming public support, but one which is likely to be significantly weakened when the bill  is reconciled with the eventual Senate bill.
The vote followed a trip to the Hill by President Obama yesterday, and he released this statement minutes after the vote:
Tonight, in an historic vote, the House of Representatives passed a bill that would finally make real the promise of quality, affordable health care for the American people.

The Affordable Health Care for America Act is a piece of legislation that will provide stability and security for Americans who have insurance; quality affordable options for those who don't; and bring down the cost of health care for families, businesses, and the government while strengthening the financial health of Medicare. And it is legislation that is fully paid for and will reduce our long-term federal deficit.

Thanks to the hard work of the House, we are just two steps away from achieving health insurance reform in America. Now the United States Senate must follow suit and pass its version of the legislation. I am absolutely confident it will, and I look forward to signing comprehensive health insurance reform into law by the end of the year.
Have a tip we should know? tips@mediaite.com