House Speaker John Boehner Gives 30-Second Fiscal Cliff Speech, Then 'Drops The Mic'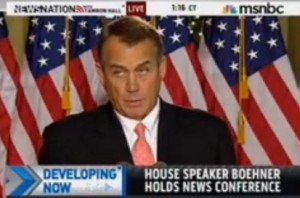 Shortly after President Obama gave a press conference in which he couldn't help speaking at length about the fiscal cliff negotiations, Republican Speaker of the House John Boehner greeted assembled reporters on Capitol Hill with a brief, tough-sounding statement on his party's so-called "Plan B" bill, then, like a guy who just did a perfect Charleston during a krump battle, swaggered away from the podium to shocked gasps and cries from the press.
Boehner's bill would make the Bush tax cuts permanent for all income below $1 million per year, which is a response to President Obama's offer of a $400,000 threshold, along with spending cuts and a change in Social Security indexing (also a cut).
"The president promised the American people a balanced approach," Boehner began. "I hope that the President will get serious soon about providing, and working with us, on a balanced approach."
"Tomorrow, the House will pass legislation to make permanent tax relief for nearly every American," Boehner continued, "99.81% of the American people. Then the President will have a decision to make. He can call on senate Democrats to pass the bill, or he can be responsible for the largest tax increase in American history."
He then metaphorically dropped the mic and walked the hell off like he just pulled the crowd at 8 Mile, seemingly unaware that if no deal is reached on the fiscal cliff, most Americans will blame Republicans, or that protecting tax cuts for million-minus-a-dollar-aires might not seem all that politically attractive to every GOP congressman.
Here's the clip, from CNN:
Follow Tommy Christopher (@TommyXtopher) on Twitter.
Have a tip we should know? tips@mediaite.com