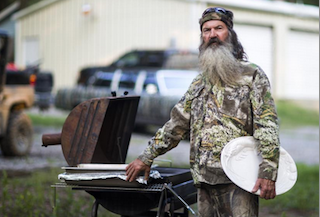 When A&E decided to reverse course late last year, ending Duck Dynasty patriarch Phil Robertson's "suspension" and resuming the show as previously scheduled, many wondered what caused them to make sure a public about face. Now, thanks to The New York Times' Andrew Ross Sorkin and "Big Data," we know exactly why they did it.
As Sorkin explains in a new piece for the paper's T Magazine, A&E saw the initial social media response to Robertson's controversial comments to GQ about homosexual sex and got concerned that viewers and advertisers might abandon the wildly popular reality show. But, he explains, after some further analysis from the network, they realized the negative reaction would be unlikely to impact the show in any major way.
Sorkin explains:
Many of the negative tweets weren't coming from the show's core audience in the middle of the country. Instead, they were coming from the tweet-happy East and West Coasts — not exactly regular watchers of the camo-wearing Louisiana clan whose members openly celebrate being "rednecks." About a week later, after A&E analyzed the feedback with some more perspective, the network reversed course on Robertson's "indefinite hiatus," reinstating him before he even missed a day of taping.
Essentially, the people offended by Robertson's equating of homosexuality to bestiality were not the same people who tuned in to Duck Dynasty every week. Sorkin points to a recent Pew survey that found that Twitter specifically are "younger and more likely to lean toward the Democratic Party." That explains why Twitter's vocal minority would react with such outrage to Robertson's comments.
Instead of turning away from Robertson's comments, many conservative viewers of the show flocked to support him, either by speaking out on television or buying up merchandise from Walmart.
But when Duck Dynasty finally returned to the air in January, it did not receive the surge of new viewers that might have been expected following the unprecedented level of coverage the controversy received. Instead, the show's ratings were down significantly from the previous season's premiere.
[photo via A&E]
— —
>> Follow Matt Wilstein (@TheMattWilstein) on Twitter
Have a tip we should know? [email protected]