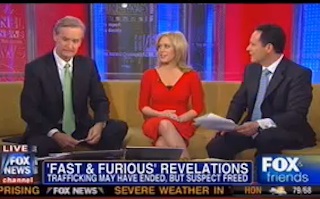 On Tuesday's Fox and Friends, the co-anchors were beside themselves over the news that the prime gunwalking suspect was held by ATF but let go.
Last month, Attorney General Eric Holder admitted the gun-tracking operation "was a fundamentally flawed program," and new documents continue to show the extent of how botched the operation truly was. Prime suspect Manuel Acosta wasn't arrested until Feb. 2, 2011, which was a full eight months after the initial Border Patrol stop. Subsequently, 2,000 weapons made it into the hands Mexican drug cartels, including rifles found at slain Border Patrol Agent Brian Terry's murder scene.
"This scandal is back in the news," co-host Brian Kilmeade proclaimed. "Possibly the most alarming thing has now come to surface!"
RELATED: Eric Holder Admits To Congress: Fast And Furious Was Executed 'Extremely Poorly'
"(Costa) was stopped by border agents as he was crossing the border and the report says that they found high capacity drum magazine loaded with 74 rounds and an AK type weapon inside his truck," Melissa Francis explained. "They ran a check and found out he was already under investigation for firearm trafficking."
"So he's in jail right now, right?" Kilmeade asked.
"No, no Brian, they stopped his truck in 2010. This was like two years ago," Steve Doocy explained.
"So he's been in jail for two years, Right?" Kilmeade pressed.
"No, they stopped him and looked into his background and saw the note, something about money to a killer or something like that," added Doocy.
"So he's definitely in jail," Kilmeade said.
"No!" Doocy replied. "Instead of taking him into jail, they contacted the special agent by the name of Hope McCallister,"
"Then he's in solitary!" Kilmeade jokingly surmised.
"[ATF agent] Hope McCallister said, 'listen, we'd like you to help us. So how about if we let you go and you contact us again, extraordinarily, he said 'okay, sure, I'll do that," Doocy continued. "She wrote her contact information on a $10 bill. Gave it to him. Said 'okay, once you go to Mexico, contact me and we'll try to coordinate some of this information and we'll spring it and we'll come to the resolution of this case.'"
"So how many voice mails has he left to Hope McCallister since then?" Kilmeade questioned.
"He never got in contact with her again. and he kept the $10 bill," Doocy said.
"That's staggering!" Kilmeade boomed.
"It would be funny if it weren't such a disaster!" Francis opined.
"The thing is now we've been talking about Fast and Furious for a while and we're now discovering details about — this is the prime suspect, one of the main gun runners and we let him go!" Doocy said.
"Just another reason why all of these calls for Eric Holder's resignation keep getting louder and louder as more information comes out," Francis added.
Watch the segment below via Fox News:

Have a tip we should know? tips@mediaite.com