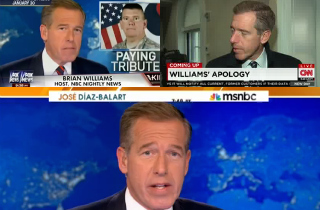 News broke at about 6 o'clock Wednesday night that NBC Nightly News anchor Brian Williams had recanted a story he'd been telling for years about being attacked while in a military helicopter in Baghdad in 2003. After Williams recounted the story on his broadcast last week, members of the 159th Aviation Regiment told Stars and Stripes that the longtime broadcaster had been "nowhere near" the chopper attack he described. Williams apologized on air Wednesday evening.

Covering a media figure can be awkward for news networks, as rivals fight the tendency to pile on a competitor while sister networks must protect against the appearance of defending their own.
According to a TVEyes search, CNN first covered the story overnight, airing his apology at 1 a.m. and then again at various points throughout the early morning. By 7 a.m. CNN media critic Brian Stelter was on New Day discussing it, and again in the 9 o'clock hour.
Fox was more emphatic. Megyn Kelly discussed the story during her 9 p.m. show last night with in-house media critic Howard Kurtz. Kelly came to the partial defense of Williams, characterizing the long-evolving tale as an "innocent mistake." "It may be an honest mistake," Kurtz replied, "but it's an inexplicable one."
The late-night show Red Eye then picked it up, and the network began covering it multiple times an hour starting at 7 a.m. Kurtz returned to the story in the 9 o'clock hour, saying Williams "will need to address this more fully because so many questions are being raised the way he has recounted this."
Meanwhile MSNBC, NBC News' sister network, didn't even mention the story until almost 11:00 a.m., when anchor Jose Diaz-Balart played William's apology before a commercial break.
More than one observer on Twitter noticed that Morning Joe, the network's morning political discussion show, failed to acknowledge the story at all.
Watch MSNBC's segment below:
[Image via screengrab]
——
>> Follow Evan McMurry (@evanmcmurry) on Twitter
Have a tip we should know? tips@mediaite.com