How CNN Got Its Washington Shows On Air–And Even Broke News–Despite A Power Failure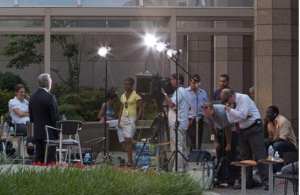 The Situation Room may be back in business this afternoon, but it'll probably be running on generator power. CNN's Washington bureau lost power Tuesday afternoon, forcing technical crews to scramble to relocate Wolf Blitzer and company to a makeshift studio outdoors–an effort CNN bosses are describing today as a "remarkable feat." CNN's DC bureau chief Sam Feist, in a memo to staff, said "after 20 years at CNN, I've seen a lot of CNN heroes and I've seen our colleagues pull off some remarkable feats. Today goes near the top of the list for me."
The power failure, which cut off electricity to thousands of utility customers in the Washington area as power use surged in high temperatures, came at a lousy time for CNN: just thirty minutes ahead of the 5 p.m. start of Sit Room, and as CNN was sitting on a key piece of video: the testy exchange between Rep. Anthony Weiner and Capitol Hill reporters, including CNN's Dana Bash. "Because of the work of hundreds and hundreds of our colleagues in New York, Atlanta, and DC who literally leapt into action–CNN kept its DC-based programs on the air and in fact produced some outstanding and flawless newscasts," said Feist.
Staffers who were in the DC bureau during the chaos described a series of bizarre scenes, including CNN's John King in an office, preparing for his show by candlelight. Meanwhile, Blitzer and his team carried laptops, cameras, lights and a huge collection of gear down a dozen flights of stairs and quickly set up shop on a sweltering sidewalk in front of the bureau. Not only did the show go off on time and free of technical glitches, but CNN's web team even managed to break news, with the CNNPolitics.com desk sending out a breaking news alert on the debt ceiling vote before the competition.
CNN says it's been told not to expect the power to be restored until "this afternoon or tonight," and CNN plans to use generators to power studios–though not air conditioning. "Kind of hot," said one staffer.
Here's the start of Tuesday's al fresco Situation Room, from CNN:
Have a tip we should know? tips@mediaite.com