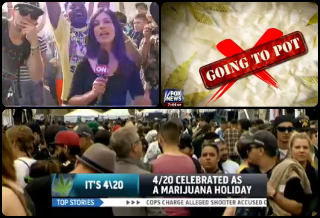 With marijuana slowly becoming decriminalized across the country and even recreationally legal in two western states, the media is still figuring out exactly how to talk about a former subculture that is turning more and more mainstream. This is apparent nowhere more than the three big cable news networks, which each dedicated exactly one full segment Sunday to the cannabis-themed holiday known simply as 4/20. But as you can see below, CNN, MSNBC and Fox News each had their own unique way of covering the celebrations.
CNN
Let's begin with CNN, which was the first network to bring up the 4/20 holiday during an early morning news block Sunday. But that short tease did not materialize into a full segment until just after 4:20pm Mountain Daylight Time when correspondent Ana Cabrera reported live from Denver's annual 420 Festival, which got even bigger this year with Colorado's legalization of recreational marijuana.
Surrounded by festival-goers lighting up in Denver's Civic Center Park, Cabrera reminded viewers that it is still illegal to smoke in public. As she was being nearly drowned out by the screaming crowds, the correspondent cited polls claiming 55% of Americans are now in favor of some form of legalization.
Cabrera spoke to one marijuana business owner in Denver who called 4/20 a "symbol for freedom," adding, "I think people think we're all playing some big joke on America, and that's not what it is. This is progress."
Watch video below, via CNN
MSNBC
Over on MSNBC, there was an even bigger sense of celebration. Craig Melvin introduced the segment by exclaiming "4/20!" as the words "Pot Holiday" appeared behind him in big bold letters. For its on-the-ground coverage, MSNBC turned to local Denver reporter Steve Spangler, who described this year's event in Denver as "less a rally, more a festival."
"It's really more of a celebration this year than lobbying for something and that's because recreational pot sales are now legal in Colorado," Spangler explained to viewers, before predicting that the event could see 100,000 attendees this year. Like CNN's Cabrera, Spangler reminded anyone watching that it is still illegal to smoke marijuana in public in that state.
As of 3pm, police had written 34 tickets, 22 of which for public consumption. Of course, those who were cited by police only had to pay a fine of about $100 and were not arrested as they would be in most of the country.
"The mood here, people are quite happy, people are celebrating, calling it a movement," Spangler said, describing the scene around him. "There are some critics to this, but here in the park, people are pretty happy."
Watch video below, via MSNBC:
Fox News
And what about Fox News? If you were watching that network yesterday, you did not see any reporters on the ground in Colorado capturing the celebratory mood there. Instead, Fox & Friends Sunday's Clayton Morris used the holiday as an opportunity to discuss a more sinister marijuana-related story, complete with the ominous Chyron headline "Going to pot."
"Pot smokers in Colorado, check this out, making their 4/20 holiday a mainstream affair now that marijuana is legal in the state," Morris said Sunday morning. "It's a day where fans of the drug celebrate by lighting up."
From there, he brought up recent lawsuits from Colorado drivers who say they are being unfairly targeted by police in others states because of the recreational legalization in their state. "Is license plate profiling a real issue?" Morris asked. "And how are police to know if someone is too high to drive?"
Joining Morris to discuss the issue was former police instructor and current criminal defense attorney Philip Holloway, who said police officers should not be able to pull someone over just based on their license plate. But at the same time, he did defend their right to give Colorado drivers extra scrutiny, which could lead to increased violations for them, whether they have been smoking marijuana or not.
Watch video below, via Fox News:
As you can see, while none of the big three cable news networks gave an outsized amount of coverage to the 4/20 "holiday," the tone presented by both CNN and MSNBC was markedly different from the one on Fox. While the former pair clearly focused on Colorado's celebratory attitude towards marijuana legalization and the drug's move into the mainstream, Fox largely avoided those aspects while honing in on the dangers and stigmas associated with the drug and its legalization.
[photo via screengrab]
— —
>> Follow Matt Wilstein (@TheMattWilstein) on Twitter
Have a tip we should know? tips@mediaite.com